Home > Food > Recipes > Battered Fish with Lemon Mayonnaise
Battered Fish with Lemon Mayonnaise
Lemon mayo is makes a great topping for battered fish.
Prep Time: 20M
Cooking Time: 10M
Serves: Serves 4
Ingredients:
1 whole large egg, plus 1 egg yolk
juice and finely grated zest of 1 lemon
1 cup olive oil
sea salt and freshly ground black pepper
11/4 cups all-purpose flour
1 tsp baking soda
1 tsp paprika
2/3 cup cold sparkling soda water
1 cup olive oil, for frying
10oz (300g) skinless boneless white fish, such as haddock, cut into 1/2in (1cm) strips
Directions:
To make the mayonnaise, combine the egg, egg yolk, lemon juice, and zest in a food processor, and mix until pale yellow. Add the oil a few drops at a time and blend, then add the remaining oil in a steady stream until it forms a smooth emulsion. Season with salt and pepper, transfer to a serving bowl, cover, and refrigerate.
Whisk together the flour, baking soda, paprika, and soda water. Season with salt and pepper, then whisk until smooth. Meanwhile, heat the oil in a deep-sided frying pan and place over medium-high heat until it reaches 400°F (200°C) on a deep-fry thermometer. Adjust as needed; the oil should be very hot but not smoking.
Put the fish in the batter one piece at a time and coat well. Carefully place the fish in the hot oil. Cook the fish in batches for 2-3 minutes, turning, until rich golden brown. Remove with a slotted spoon and place on paper towels to drain. Sprinkle with a little salt and serve hot, with the lemon mayonnaise.
Tips:
Replace the sherry with dessert wine or white wine, or a splash of white wine vinegar for sharpness. Use broccoli instead of spinach.
Cheat...Mix the juice of 1 lemon with 2 large tablespoons ready-made mayonnaise, instead of making your own.
excerpted from: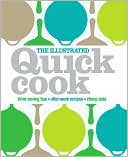 Excerpted from The Illustrated Quick Cook.
Copyright © 2009 Dorling Kindersley Limited.
Buy this book now!
Sign-Up Now!
Sign up to save recipes or create shopping lists online.
Already registered? Login here

Cooking Tips
More Videos: