Home > Food > Recipes > Grill Bread
Grill Bread
Grilled bread is it a great accompaniment to any meal, and it also makes a wonderful appetizer when drizzled with some flavored oil or dipped into a relish or salsa.
Serves: Makes 4 flat loaves
Ingredients:
1 tablespoon active dry yeast
3 cups all-purpose flour, divided
1/2 cup warm water
2 tablespoons olive oil, plus more for brushing
1/2 cup beer of your choice, at room temperature
1/4 cup yellow cornmeal, plus more for dusting
1 teaspoon kosher salt, plus more for sprinkling
Directions:
Stir together the yeast and 1/2 cup flour in the bowl of an electric mixer. Add the warm water and mix until just blended. Cover with a damp towel and let stand in a warm, draft-free place (inside a gas oven with the pilot light on, for example) for 30 minutes, until the mixture is thick and foamy and gives off a sound sort of like soda fizz when you stir it.
Add 2 tablespoons of oil and the beer to the yeast mixture and mix well. Add the cornmeal and 1 teaspoon salt, and begin adding the remaining 21/2 cups of flour, 1/2 cup at a time, to form a soft dough (you may not need all of the flour). Turn the dough out onto a floured board and knead, adding as much of the remaining flour as necessary to prevent the dough from sticking, until the dough is satiny and just slightly sticky (about 8 minutes).
Place the dough in an oiled bowl, turning once to coat. Cover loosely and let rise in a warm place until it has doubled in bulk (1-11/2 hours). Divide the dough into quarters and form each piece into a ball. Sprinkle a baking sheet with cornmeal and put the balls of dough on the sheet, then cover loosely and let rise again for 30 minutes. (At this point, you can cover the dough with plastic wrap and refrigerate it until about an hour before you want to grill the bread.)
Build a fire in your grill. When the coals are all ignited, the flames have died down, and the temperature is medium (see Gauging the temperature), you're ready to cook.
Stretch each ball of dough into a rough circle or rectangle about 1/8in (3mm) thick and 10in (25cm) across. Brush with additional olive oil and sprinkle with salt, then place it directly on the grill and cook until black spots form on the bottom and bubbles form on the top (about 4 minutes). Flip the bread over and grill the other side until golden and crusty (3-4 minutes more). Remove from the grill and serve right away.
excerpted from: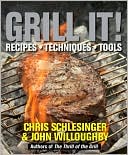 Sign-Up Now!
Sign up to save recipes or create shopping lists online.
Already registered? Login here

Cooking Tips
More Videos: