Home > Food > Recipes > Grilled Sirloin Skewers with Aromatic Herbs, Lime, and Chiles
Grilled Sirloin Skewers with Aromatic Herbs, Lime, and Chiles
The intense flavors of Southeast Asia are combined with the familiar taste of beef to make a perfect appetizer.
Serves: Serves 4 to 6 as an appetizer
Ingredients:
1lb (450g) beef sirloin, cut into 1/2 in (1cm) cubes
Kosher salt and freshly cracked black pepper
The wraps
8-12 large lettuce leaves
The dressing
Juice of 1 lime (about 2 tablespoons)
1 tablespoon soy sauce
1 tablespoon Southeast Asian fish sauce (available in Asian markets or large supermarkets)
1 tablespoon peeled and minced fresh ginger
1 tablespoon minced fresh chile peppers of your choice
1 tablespoon roughly chopped fresh mint
1 tablespoon roughly chopped fresh cilantro
1 tablespoon roughly chopped fresh basil
Directions:
Build a fire in your grill. When the coals are all ignited, the flames have died down, and the temperature is hot (see Gauging the temperature), you're ready to cook.
Sprinkle the sirloin cubes generously with salt and pepper, thread them onto skewers, then put them on the grill directly over the coals and cook until they are just done (3-4 minutes per side for medium-rare). To check for doneness, poke the meat with your finger to test its firmness (see The "hand method"); if you're unsure, cut into one of the cubes to be sure it is slightly less done than you like it.
Push the cooked sirloin off the skewers into a large bowl, add all the dressing ingredients, and toss gently until the meat is evenly and thoroughly coated.
To serve, set out the sirloin cubes and the lettuce leaves on platters and pass them around, so that guests can "roll their own" beef and lettuce rolls.
excerpted from: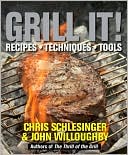 Sign-Up Now!
Sign up to save recipes or create shopping lists online.
Already registered? Login here

Cooking Tips
More Videos: