Home > Food > Recipes > Roll-Your-Own Grilled Shrimp Tacos with Ancho Chile Sauce
Roll-Your-Own Grilled Shrimp Tacos with Ancho Chile Sauce
Shrimp tacos are a spicy and delicious alternative to this family-favorite Mexican dish.
Serves: Serves 4 as an appetizer
Ingredients:
1lb (450g) medium-large shrimp (16-20 per pound), peeled, deveined, and tails removed
2 tablespoons olive oil
1 tablespoon chile powder
Salt and freshly cracked black pepper to taste
The sauce
1/3 cup ancho chiles, steeped in hot water for 40 minutes, drained, and puréed in a blender
1 teaspoon ground cumin
Juice of 2 limes (about 1/4 cup)
Kosher salt and freshly cracked black pepper to taste
The garnishes
1 ripe but firm avocado, peeled, pitted, diced small, and lightly coated with fresh lemon juice
1/2 small red onion, peeled and thinly sliced
1 cup shredded green cabbage
1/4 cup roughly chopped fresh cilantro
1 cup diced tomato
2 slices peeled fresh pineapple, about 1/2in (1cm) thick
1 tablespoon olive oil
Salt and freshly cracked black pepper to taste
The wraps
8 corn or flour tortillas, 6-8in (15-20cm) across
Directions:
Build a fire in your grill. When the coals are all ignited, the flames have died down, and the temperature is hot (see Gauging the temperature), you're ready to cook.
Put all the garnish ingredients except the pineapple, oil, and salt and pepper in separate small bowls, arrange the bowls on a platter, then cover and set aside until serving time. Combine the sauce ingredients in a small bowl.
Rub the pineapple slices with olive oil, sprinkle with salt and pepper, and grill until golden brown and slightly charred (3-4 minutes per side). Dice the pineapple, put it in a small serving bowl, and cover to keep warm.
Rub the shrimp with olive oil and sprinkle with the chile powder and plenty of salt and pepper. Put them on the grill directly over the coals and cook until just opaque throughout (3-4 minutes each side). To check for doneness, make a cut in one and peek in. Halve the shrimp if desired, put in a serving bowl, and cover loosely to keep warm.
Put the tortillas on the grill to toast briefly, flipping every 10 seconds or so, until they are soft and pliable (about 1 minute). Wrap the stack of warm tortillas in a large napkin or foil, and bring them to the table along with the shrimp, the sauce, and the platter of garnishes so your guests can "roll their own."
excerpted from: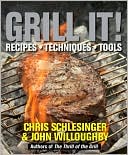 Sign-Up Now!
Sign up to save recipes or create shopping lists online.
Already registered? Login here

Cooking Tips
More Videos: