Home > Food > Recipes > Smoked Curried Baby Back Ribs with Hot Scotch Bonnet Sauce
Smoked Curried Baby Back Ribs with Hot Scotch Bonnet Sauce
Chile pepper and curry powder give this rib dish a hot and deliciously spicy taste.
Serves: Serves 4 to 6 as an appetizer
Ingredients:
1/4 cup olive oil
1/4 cup freshly cracked coriander seed
2 tablespoons curry powder
2 tablespoons paprika
1 tablespoon brown sugar
2 slabs baby back pork ribs, each about 11/2lb (675g)
The sauce
6-10 Scotch bonnet chiles, stemmed, but including seeds and ribs
1/3 cup fresh orange juice
1/3 cup cheap yellow mustard
1/4 cup roughly chopped fresh cilantro
2 tablespoons dark brown sugar
Kosher salt and freshly cracked black pepper to taste
Directions:
Light a fire well over to one side of your grill, using enough coals to fill half a shoebox.
Combine the olive oil, coriander, curry powder, paprika, and brown sugar in a small bowl and mix well. Rub this mixture all over the ribs.
When the flames have died down and the coals are covered in white ash, place the ribs on the side of the grill away from the coals, being careful that none of the meat is directly over the coals. Put the lid on the grill with the vents one-quarter of the way open. Cook the ribs for 30-45 minutes, adding a handful of fresh charcoal after 30 minutes. Turn the ribs over and cook them for 10-20 minutes more. To check for doneness, cut into one of the ribs to be sure that there is no pink down near the bone.
While the ribs are cooking, make the sauce: Combine the chiles, orange juice, mustard, cilantro, and brown sugar in a food processor or blender and purée.
When the ribs are done, brush them with the sauce and cook for about 30 seconds more on each side. Remove the ribs from the grill, cut them apart, and serve, passing any remaining sauce on the side.
excerpted from: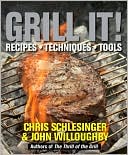 Sign-Up Now!
Sign up to save recipes or create shopping lists online.
Already registered? Login here

Cooking Tips
More Videos: