Home > Food > Recipes > Smoked Salmon and Pancetta Crostini
Smoked Salmon and Pancetta Crostini
Crostini and bruschette can be made in many variations. Tangy-buttery crème fraîche lightens this savory bite.
Prep Time: prep 10 mins
Cooking Time: cook 15 mins
Serves: makes 12 crostini
Ingredients:
12 slices of French (baguette)bread
3 tbsp olive oil
6 slices of pancetta
3 / 4 cup crème fraîche or sour cream
2 tbsp whole grain mustard
3 tbsp capers, rinsed
1 tsp fresh lemon zest
1 tsp fresh lemon juice
freshly ground black pepper
7 oz ( 200g) smoked salmon, cut into strips
12 whole chives, snipped into 1in ( 2.5cm) lengths to garnish
Directions:
Preheat the oven to 400°F (200°C). Brush both sides of the bread slices with olive oil, and place them on a baking sheet. Bake for 10 minutes, or until crisp and golden. Cool completely.
Preheat the broiler and position the broiler rack 6in (15cm) from the source of heat. Broil the pancetta for about 5 minutes until crisp on both sides. Drain on paper towels. Cut into thin strips.
Mix the crème fraîche with the mustard, the capers, the lemon zest, and juice, and black pepper to taste.
Place the bread slices on a serving plate, spread with the crème fraîche mixture, and top with strips of smoked salmon, pieces of pancetta, and chives to garnish.
Tips:
prep 10 mins; cook 15 mins
Variations
Classic Italian Crostini: Remove the smoked salmon, replace the crème fraîche mixture with slices of fresh mozzarella, and use fresh basil instead of chives. Brush the bread slices with garlic and olive oil, then lightly pepper the mozzarella. Place a piece of basil on each piece of mozzarella, then wrap it in half a slice of prosciutto. Place the crostini under the broiler for 3-5 minutes, until the cheese melts.
excerpted from: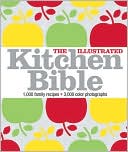 Excerpted from The Illustrated Kitchen Bible.
Copyright © 2008 Dorling Kindersley Limited.
Buy this book now!
Sign-Up Now!
Sign up to save recipes or create shopping lists online.
Already registered? Login here
Cooking Tips
More Videos: