Home > Food > Recipes > Bacon & Onion Quiche
Bacon & Onion Quiche
This recipe has four allergy-free variations, each with crisp pastry shells and a creamy, slightly wobbly custard encasing the filling of bacon, onion, herbs, and cheese.
Prep Time: 30M, plus pastry chilling time
Cooking Time: 35M
Serves: serves 6
Ingredients:
Nut free
1 quantity of nut- and egg-free Piecrust pastry
1 tbsp flavorless nut-free oil
2 onions, chopped
6 slices bacon, rind removed and diced
3 eggs
1 1/3 cups light cream
1 cup grated hard cheese, eg cheddar
2 tbsp chopped fresh parsley
1 tbsp chopped fresh sage
salt and freshly ground black pepper
Directions:
Preheat the oven to 400° F.
Roll out the pastry and use to line a 10 inch flan dish. Place on a baking sheet. Prick the base with a fork and fill with crumpled foil or waxed paper and baking beans. Bake in the oven for 10 minutes. Remove the foil or paper and beans and bake for about 5 minutes, until lightly golden and dried out. Remove from the oven. Reduce the temperature to 375° F.
Meanwhile, heat the oil in a frying pan and fry the onion for 2 minutes, stirring, until translucent. Add the bacon and continue to fry for another 2 minutes. Remove from the pan with a slotted spoon and reserve.
Beat the eggs and cream together with half the cheese and herbs. Season with salt and pepper.
Transfer the bacon and onion mixture to the flan case and spread out. Spoon over the egg and cream mixture. Sprinkle the remaining cheese on top. Bake in the oven for 35 minutes until bubbling, set, and turning pale golden. Serve warm or cold.
Variations
Dairy free also nut free: Follow the recipe for Nut free, but use the dairy-free Piecrust pastry. Use soy cream in place of the light cream and a cheddar-type soy cheese instead of the cheddar cheese.
Egg free also nut free: Follow the recipe for Nut free, but omit the eggs. At step 4 put 6 tablespoons of potato flour in a bowl with 1 1/2 teaspoons of xanthan gum and 1 scant cup water. Whisk with an electric beater until thick and white and the mixture stands in soft peaks. Whisk in the 1 1/4 cups of cream and a tablespoon of English or Dijon mustard. Beat together with half the cheese, the herbs, and salt and pepper to taste. Continue from step 5.
Gluten free also nut free: Follow the recipe for Nut free, but use the gluten-free Piecrust pastry recipe.
excerpted from: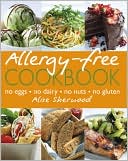 Excerpted from Allergy-Free Cookbook.
Copyright © 2009 Dorling Kindersley Limited.
Buy this book now!
Sign-Up Now!
Sign up to save recipes or create shopping lists online.
Already registered? Login here

Cooking Tips
More Videos: