Home > Food > Recipes > Pancakes (Allergy-free)
Pancakes (Allergy-free)
There's nothing like a hot stack of pancakes for breakfast. These fluffly flap-jacks are allergy-free (including a gluten-free option), and perfect with fresh fruit toppings.
Prep Time: 5M
Cooking Time: 20M
Serves: makes 8
Ingredients:
Nut free
generous 1 cup all-purpose flour
pinch of salt
2 tsp baking powder
2 tbsp superfine sugar
1 large egg, beaten
1 scant cup milk
nut-free vegetable oil for frying
Directions:
Sift the flour with the salt, baking powder, and sugar.
Make a well in the center, add the egg and half the milk and whisk (but do not overmix) to form a smooth creamy batter. Stir in the remaining milk.
Heat a little oil in a frying pan over a medium heat. Pour off the excess. Add enough batter to the pan to make a pancake about 5 inches in diameter and cook until bubbles appear and pop on the surface and the pancake is almost set and brown underneath, about 11/2 minutes. Flip with a spatula and quickly cook the other side. Slide out onto a plate and keep warm while you cook the remainder. Heat the pan with a little more oil between each pancake. If you have a big pan, you could cook 2-3 pancakes at a time.
Serve the pancakes hot with maple syrup, honey, raspberries, or lemon wedges to squeeze over them.
Tips:
The pancakes are best made fresh, so keep them warm on a plate over a pan of gently simmering water while you cook the remainder.
Variations
Dairy free also nut free: Follow the recipe for nut free; American pancakes, but use soy, rice, or oat milk in place of the cow's milk.
Egg free also nut free: Follow the recipe for Nut free, but in step 1, whisk 1 tablespoon of potato flour with 1/4 teaspoon of xanthan gum and 2 tablespoons of water until thick and frothy and add to the flour. In step 2, omit the egg and add an extra 3-4 tablespoons of milk to form a creamy consistency. Continue with steps 3 and 4, .
Gluten free also nut free: Follow the recipe for Nut free, but use 1/2 cup buckwheat flour and 1/2 cup gluten-free all-purpose flour instead of all-purpose flour.
excerpted from: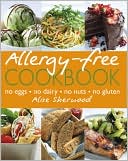 Excerpted from Allergy-Free Cookbook.
Copyright © 2009 Dorling Kindersley Limited.
Buy this book now!
Sign-Up Now!
Sign up to save recipes or create shopping lists online.
Already registered? Login here

Cooking Tips
More Videos: