Home > Food > Recipes > Classic Crème Brûlée
Classic Crème Brûlée
A classic dessert; its name is French for "burnt cream"
Prep Time: 20M, plus standing
Cooking Time: 40M
Serves: makes 6 servings
Ingredients:
2 cups heavy cream
1 vanilla pod, split in half lengthwise
5 large egg yolks
1/4 cup granulated sugar
1/4 cup demerara sugar, or use more granulated sugar
Directions:
Preheat the oven to 275°F (140°C). Heat the cream and vanilla bean in a saucepan over low heat until simmering. Remove from the heat and let stand for 1 hour.
Using the tip of a knife, scrape the seeds from the vanilla bean into the cream. Discard the bean or save for another use. Whisk the egg yolks and granulated sugar together in a bowl. Whisk in the cream mixture. Strain through a wire sieve into a glass measuring cup. Pour equal amounts into six 6oz (175ml) ramekins. Place the ramekins in a roasting pan and add enough hot water to come halfway up the sides.
Bake until the custards are barely set, about 40 minutes. Remove the ramekins from the pan and cool. Cover with plastic wrap and chill in the refrigerator at least 2 hours.
To serve, position a broiler rack 6in (15cm) from the source of heat and preheat the broiler. Sprinkle 2 tsp demerara sugar evenly over the top of each custard. Broil until the sugar caramelizes. Serve immediately.
Tips:
six 6oz (175g) ramekins
Prepare ahead: The custards, without the topping, can be covered and refrigerated for up to 2 days.
Variations
Fruit Brûlée: Put a spoonful of soft berries or cooked fruit (apricots, rhubarb) in the bottom of each ramekin before adding the custard.
excerpted from: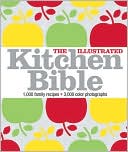 Excerpted from The Illustrated Kitchen Bible.
Copyright © 2008 Dorling Kindersley Limited.
Buy this book now!
Sign-Up Now!
Sign up to save recipes or create shopping lists online.
Already registered? Login here

Cooking Tips
More Videos: