Home > Food > Recipes > Allergy-Free Chocolate Brownies
Allergy-Free Chocolate Brownies
These are as brownies should be: rich, moist chocolatey squares with a distinctively cracked top. With a gluten-free option.
Prep Time: 25M
Cooking Time: 20M
Serves: makes 15
Ingredients:
Nut free
3/4 cup all-purpose flour
1 tbsp nut-free unsweetened cocoa powder
good pinch of salt
1 tsp baking powder
3/4 cup soft light brown sugar
1/4 cup butter or margarine
2 tbsp water
scant 1 cup (31/2 oz) nut-free semisweet chocolate
1 tsp vanilla extract
2 large eggs, beaten
Directions:
Preheat the oven to 350° F. Line a 7 × 11 inch baking pan with parchment paper.
Sift the flour, cocoa powder, salt, and baking powder into a bowl.
Put the sugar, butter or margarine, water, chocolate, and vanilla in a saucepan and heat gently, stirring, until melted.
Pour into the flour mixture, add the eggs and beat until smooth.
Transfer to the prepared pan and bake for about 20 minutes, until firm to the touch and slightly crusty on top.
Let cool for 10 minutes then mark into 15 squares. Cool completely before removing from the pan. Store in an airtight container. Pictured here
Variations
Dairy free also nut free: Follow the nut-free recipe, but make sure you use dairy-free margarine instead of the butter or ordinary margarine and dairy-free chocolate for the semisweet chocolate.
Egg free also nut free: Follow the nut-free recipe to step 4 adding an extra 1/2 teaspoon of baking powder to the mix. At step 4, omit the eggs. Mix 2 tablespoons of potato flour and 2/3 cup water in a small saucepan. Bring to a boil until just thickened and clear, stirring all the time. Remove from the heat. Beat the potato flour and water mixture along with the melted ingredients. These egg-free brownies are even more moist and chewy than the others.
Gluten free also nut free: Follow the nut-free recipe, but substitute gluten-free all-purpose flour for the ordinary flour and check that the baking powder and cocoa powder are gluten free, too.
excerpted from: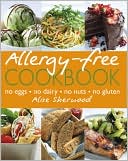 Excerpted from Allergy-Free Cookbook.
Copyright © 2009 Dorling Kindersley Limited.
Buy this book now!
Sign-Up Now!
Sign up to save recipes or create shopping lists online.
Already registered? Login here

Cooking Tips
More Videos: