Home > Food > Recipes > Allergy-Free Chocolate Crinkle Cookies
Allergy-Free Chocolate Crinkle Cookies
These are sophisticated little cookies, rolled in a generous amount of confectioners' sugar to create a snowy coating that cracks attractively and dramatically on cooking to reveal the sweet dark chocolate interior. With a gluten-free option.
Prep Time: 20M, plus chilling time
Cooking Time: 10M-12M
Serves: makes 16 small or 8 large cookies
Ingredients:
Dairy, egg, & nut free
3 tbsp granulated sugar
3/4 cup self-rising flour
1 tsp baking soda
1/4 cup nut-free unsweetened cocoa powder
1/4 cup butter
2 tbsp light corn syrup
1/4 cup confectioners' sugar for coating
Directions:
Place the sugar in a medium bowl. Sift in the flour, baking soda, and cocoa powder.
Add the butter and rub in with your fingers until the mixture has the consistency of breadcrumbs. Stir in the corn syrup and mix well. Draw the dough together with your hands to form a ball.
Divide the dough into 16 pieces for small cookies or 8 for large cookies. Chill them in the refrigerator for at least 30 minutes.
Preheat the oven to 350° F. Line 2 baking sheets with baking parchment.
Roll each piece of dough into a ball and roll in the confectioners' sugar, coating very thickly, before placing on the lined baking sheets. Place the pieces at least 11/2 inches apart since they spread during baking.
Bake in the oven until attractively cracked on the top and still a little bit soft in the center. Check the small cookies after 10 minutes and the double-size cookies after 12 minutes.
Allow the cookies to firm up on the baking sheet before transferring to a wire rack to cool. Store in an airtight container Pictured here
Tips:
If you can get only all-purpose gluten-free flour, convert it to self-rising by adding 2 teaspoons of gluten-free baking powder
Variations
Dairy free also egg & nut free: Follow the recipe for Dairy, egg, & nut free, but use dairy-free spread instead of butter.
Gluten free also egg & nut free: Follow the recipe for Dairy, egg, & nut free, but substitute an equal quantity of gluten-free self-rising flour for the flour and ensure that the baking soda and cocoa powder are also gluten free.
excerpted from: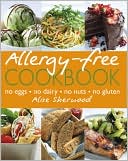 Excerpted from Allergy-Free Cookbook.
Copyright © 2009 Dorling Kindersley Limited.
Buy this book now!
Sign-Up Now!
Sign up to save recipes or create shopping lists online.
Already registered? Login here

Cooking Tips
More Videos: