Home > Food > Recipes > Almond and Quince Tart
Almond and Quince Tart
Categories:
Sweet
Type:
Desserts and Baked Goods
Sweet-tart quince paste is available at specialty markets and in the Latino section of many supermarkets
Prep Time: prep 20 mins, plus chilling
Cooking Time: cook 45-55 mins
Serves: makes 6-8 servings
Ingredients:
For the almond pastry
1 cup all-purpose flour, plus more for dusting
3 tbsp almond flour (almond meal)
1 tbsp confectioner's sugar
5 tbsp butter, at room temperature
1 large egg yolk beaten with 1 1 / 2 tbsp water
grated zest of 1 / 2 lemon
For the filling
1 cup blanched slivered almonds
grated zest and juice of
1 / 2 orange
grated zest and juice of
1 / 2 lemon
2 tbsp almond liqueur
10 tbsp butter, at room temperature
1 / 3 cup confectioner's sugar
To complete
3 large eggs
6oz (175g) quince paste (membrillo) or quince preserves
squeeze of lemon juice
confectioner's sugar, for dusting
Directions:
To make the pastry, pulse the flour, almond flour, and confectioner's sugar in a food processor to combine. Add the butter and pulse until the mixture resembles coarse bread crumbs. Add yolk mixture and lemon zest and pulse until the dough clumps together. Gather into a thick disk, wrap in plastic wrap, and refrigerate for 30 minutes.
To make the filling, process the almonds in the food processor until coarsely ground. Add the orange and lemon zests and juices with the liqueur, and process to combine. With the machine running, one tablespoon at a time, add the butter. Stop the machine, add the confectioner's sugar, and process until smooth. With the machine runnning, one at a time, add the eggs, stopping to scrape the bowl as needed.
Roll the dough on a lightly floured work surface into a 1/8in (3mm) thick round. Line the round tart pan with a removable bottom with the dough and prick well with a fork. Refrigerate for 30 minutes.
Preheat the oven to 400°F (200°C). Line the dough with aluminum foil and baking beans. Bake about 15 minutes, until the crust looks set. Remove the foil and beans and bake for 10 minutes longer. Let cool. Reduce the oven temperature to 350°F (180°C).
Melt the quince paste with 1 tbsp water and the lemon juice over low heat until melted. Spread evenly in the tart shell. Spread the almond mixture on top. Bake for about 35 minutes until the filling is golden. Let cool 15 minutes. Remove the sides of the pan and transfer to a platter. Dust with confectioner's sugar and serve warm.
Tips:
prep 20 mins, plus chilling; cook 45-55 mins
excerpted from: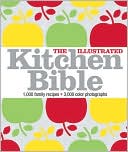 Excerpted from The Illustrated Kitchen Bible.
Copyright © 2008 Dorling Kindersley Limited.
Buy this book now!
Sign-Up Now!
Sign up to save recipes or create shopping lists online.
Already registered? Login here

Cooking Tips
More Videos: