Home > Food > Recipes > Apple Tart (Allergy-Free)
Apple Tart (Allergy-Free)
This delicious classic and versatile Normandy tarte aux pommes works equally well as an elegant dessert or as a stylish snack-time treat. With egg-, nut-, dairy-, and gluten-free variations.
Prep Time: 50M, plus chilling and cooling time
Cooking Time: 1H5M
Serves: serves 6-8
Ingredients:
Egg & nut free
1 quantity egg and nut-free sweet Piecrust, chilled for 30 minutes
1 1/2 lb dessert or tart apples, peeled, quartered, cored and chopped
1 scant cup vanilla sugar
1 vanilla pod, split lengthwise
1 lb tart apples peeled, quartered, cored, and thinly sliced-about 1/8 in thick-or rosy dessert apples, thinly sliced with the skin left on
Directions:
Preheat the oven to 400° F.
Roll out the piecrust pastry and line a 10-inch loose-bottomed tart pan. Place the chopped apples and 1/4 cup of the vanilla sugar in a heavy-bottomed saucepan. Scrape the seeds out of the vanilla pod and add both the pod and the seeds to the apple and sugar mixture. Cook gently, stirring occasionally, until the apples are soft and can be pulped when pressed with a wooden spoon, about 15 minutes. If using dessert apples, add 1-2 tablespoons of water to ensure the apples break down easily. Remove the vanilla pod.
Beat the cooked apple well with a wooden spoon, adding another 1/4 cup of the sugar. Let cool. Once cool, transfer to the piecrust.
Arrange the apple slices in circles overlapping each other on top of the apple sauce, starting from the outside in.
Bake in the center of the oven for 15 minutes. Remove the tart from the oven and sprinkle with the remaining 1/4 cup of vanilla sugar. Return to a high shelf in the oven and bake until lightly browned and the sliced apples are tender, about 50 minutes.
Tips:
You can make the piecrust and freeze it in its tart pan.
Serve hot, warm, or cold, either on its own or with cream, crème fraîche, or vanilla ice cream (or a dairy-free alternative).
Variations
Dairy free also egg free: Follow the recipe for Egg & nut free, but use the dairy-free sweet Piecrust recipe and serve with soy cream alternative or dairy-free ice cream.
Gluten free also egg & nut free: Follow the recipe for Egg & nut free, but use gluten-free sweet Piecrust.
excerpted from: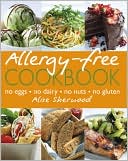 Excerpted from Allergy-Free Cookbook.
Copyright © 2009 Dorling Kindersley Limited.
Buy this book now!
Sign-Up Now!
Sign up to save recipes or create shopping lists online.
Already registered? Login here

Cooking Tips
More Videos: