Home > Food > Recipes > Ash-Roasted Apples with Blue Cheese-Date Stuffing and Cinnamon-Orange Caramel Sauce
Ash-Roasted Apples with Blue Cheese-Date Stuffing and Cinnamon-Orange Caramel Sauce
This dessert is an extreme version of baked apples, complete with a tangy-sweet stuffing and a luscious caramel sauce.
Ingredients:
1/4 cup pecans
4 large Golden Delicious apples (or other firm apples such as Jonathans, Braeburns, Empires, or Romes)
8oz (225g) blue cheese, crumbled
1/4 cup diced pitted dates
The sauce
1/2 cup granulated sugar
Juice of 1/2 orange (about 1/4 cup)
3in (7.5cm) cinnamon stick
1/4 cup heavy cream
Grated zest of 1/2 orange
Pinch salt
Directions:
Toast the pecans in a shallow baking pan in a 350°F (180°C) oven for 5-10 minutes, or very carefully in a dry skillet on the grill, shaking frequently to avoid burning, until golden (3-5 minutes). Chop them finely in a food processor or coffee grinder.
Core the apples through the top, stopping 1/2in (1cm) from the bottom. Combine the cheese, dates, and pecans in a bowl and mix gently until evenly combined. Push a quarter of the mixture into the center of each apple.
For each apple, stack up 4 sheets of heavy-duty foil, each about 2ft (60cm) long. Place the apples in the center of the top sheets of foil, then fold up the sheets around each apple one after the other, turning the package a quarter-turn each time and making sure that each sheet is well sealed around the apple.
Place the foil-wrapped apples in the coals at the periphery of the fire, where the heat is less intense. Pile the coals up around the packages and cook until the apples are tender (20-30 minutes).
While the apples are roasting, combine the sugar and orange juice in a small saucepan over medium heat, stirring just until the sugar dissolves and the mixture comes to a boil. Add the cinnamon stick and simmer without stirring until the syrup turns deep amber-about 5 minutes. Remove from the heat and immediately add the cream, orange zest, and salt-the mixture will steam and sputter, and the caramel will congeal. Continue to cook, stirring gently, until the caramel dissolves completely. Set aside.
When the apples are tender, remove the packages from the coals and cut open the foil. Remove the cinnamon stick from the caramel and drizzle the warm sauce over the apples.
excerpted from: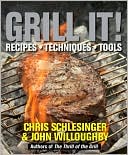 Sign-Up Now!
Sign up to save recipes or create shopping lists online.
Already registered? Login here

Cooking Tips
More Videos: