Home > Food > Recipes > Ash-Roasted Pears with Vanilla, Toasted Almonds, and Cinnamon Whipped Cream
Ash-Roasted Pears with Vanilla, Toasted Almonds, and Cinnamon Whipped Cream
Pears stuffed with butter and almonds and topped with flavored whipped cream is ideal for fall, when pears are at their peak.
Ingredients:
1/2 cup almonds
6 large, firm Bosc pears
6 tablespoons unsalted butter, cut into 6 pieces
1 tablespoon vanilla extract
1 cup well chiled heavy cream
1/4 cup powdered sugar
1/2 teaspoon ground cinnamon
Directions:
Toast the almonds in a shallow baking pan in a 350°F (180°C) oven for 5-10 minutes, or very carefully in a dry skillet on the grill, shaking frequently to avoid burning, until golden (3-5 minutes). Chop them finely in a food processor or coffee grinder.
Core the pears through the top, stopping 1/4in (3mm) from the bottom. Push 1 tablespoon of butter into the center of each pear, along with about 1/6 of the almonds and 1/2 teaspoon vanilla.
For each pear, stack up 4 sheets of heavy-duty foil, each about 2ft (60cm) long. Place the pears in the center of the top sheets of foil, then fold up the sheets around each pear one after the other, turning the package a quarter-turn each time and making sure that each sheet is well sealed around the pear.
Place the foil-wrapped pears in the coals at the periphery of the fire, where the heat is less intense. Draw the coals up around the packages and cook until the pears are tender (15-20 minutes).
While the pears are roasting, combine the cream, sugar, and cinnamon in a deep bowl. Beat with an electric mixer on medium-high speed until soft peaks form.
When the pears are tender, remove them from the coals and peel back the foil. Top each pear with a big spoonful of whipped cream and serve warm.
excerpted from: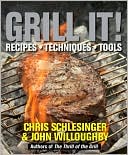 Sign-Up Now!
Sign up to save recipes or create shopping lists online.
Already registered? Login here

Cooking Tips
More Videos: