Home > Food > Recipes > Chocolate Bavarian Creams
Chocolate Bavarian Creams
These rich chocolate puddings get their light texture from whipped cream
Prep Time: prep 30 mins, plus cooling
Cooking Time: cook 20 mins
Serves: makes 4 servings
Ingredients:
1 cup whole milk
1 / 2 cup sugar
3 large egg yolks
5oz ( 140g) bittersweet chocolate, finely chopped
1 1 / 2 tsp unflavored gelatin powder
2 / 3 cup heavy cream
whipped cream or crème anglaise, to serve
grated bittersweet chocolate, to serve
Directions:
Lightly oil four 6oz (180ml) ramekins. Heat the milk in a small saucepan over low heat until it simmers. Whisk the sugar and egg yolks together, and add a little of the hot milk. Stir the egg mixture into the saucepan. Stir constantly with a wooden spoon until the custard is thick enough to coat the spoon (185°F /85°C on an instant-read thermometer). Do not boil.
Strain through a wire sieve into a bowl. Add the chocolate, let stand a few minutes, then stir until melted.
Sprinkle the gelatin over 3 tbsp cold water in a small heatproof bowl. Let stand 5 minutes, until spongy. Place the bowl in a small frying pan of very hot water and stir until the gelatin is dissolved. Stir into the chocolate mixture.
Refrigerate, stirring occasionally, until cool and on the verge of setting. Lightly whip the cream just until soft peaks form. Do not overbeat. Fold the cream into the chocolate mixture and pour into the ramekins. Cover each with plastic wrap and refrigerate until set, at least 2 hours.
Dip each ramekin very briefly in very hot water and invert creams onto plates. Garnish with whipped cream and grated chocolate and serve chilled.
Tips:
prep 30 mins, plus cooling; cook 20 mins
excerpted from: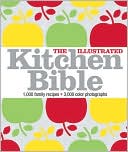 Excerpted from The Illustrated Kitchen Bible.
Copyright © 2008 Dorling Kindersley Limited.
Buy this book now!
Sign-Up Now!
Sign up to save recipes or create shopping lists online.
Already registered? Login here

Cooking Tips
More Videos: