Home > Food > Recipes > Chocolate Truffles
Chocolate Truffles
This is more one for the grown ups with its slightly sophisticated dark chocolate taste. Truffles are a delightful way to finish a meal.
Prep Time: 15M-20M
Cooking Time: 5M
Serves: makes 20 truffles
Ingredients:
Egg, gluten, & nut free
2 cups (8oz) semisweet chocolate with at least 70 percent cocoa solids, nut-free and/or gluten-free, if necessary
generous 1/2 cup heavy cream
1 tbsp liqueur of choice such as Grand Marnier or brandy (optional)
1/3 cup confectioners' sugar, sifted
1/4 cup unsweetened cocoa powder, nut-free and/or gluten-free, if necessary
Directions:
Chop the chocolate into 1/4 inch pieces. Place the pieces in a heatproof bowl.
Heat the cream in a saucepan to just below boiling point and pour onto the chocolate pieces. Leave for 5 minutes.
Use an electric whisk to whisk the chocolate and cream together until there are no lumps. Whisk in the liqueur, if using, and the confectioners' sugar. Let the mixture cool then chill until it is beginning to firm.
Use a soup spoon to scoop out the truffle mixture. Roll the mixture in the palm of your hands into 3/4 inch balls. Roll each one carefully in cocoa powder. Place on a plate or in petit four paper liners. Chill until firm.
Tips:
Use clear liqueurs because they have a more intense flavor than creamy ones.
Watch out for liqueurs that contain ingredients to be avoided. Avoid amaretto and nut-containing liquors for the nut-free version; grain-based liqueurs, such as whisky and vodka, if making gluten-free truffles; cream-based concoctions such as Baileys if making dairy-free truffles; and in the unlikely event you are going to put Advocaat into your chocolate truffles, please don't serve them to egg-allergics.
Variations
Dairy free also egg, gluten, & nut free: Follow the recipe for egg, gluten & nut free; Chocolate truffles, but make sure that the chocolate is dairy free. Use a soy cream alternative for the heavy cream and if you are using a liqueur make sure it is dairy free.
excerpted from: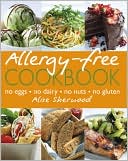 Excerpted from Allergy-Free Cookbook.
Copyright © 2009 Dorling Kindersley Limited.
Buy this book now!
Sign-Up Now!
Sign up to save recipes or create shopping lists online.
Already registered? Login here

Cooking Tips
More Videos: