Home > Food > Recipes > Croissants
Croissants
These take some time to make, but much of that is taken up chilling the dough and the final result is well worth the effort
Prep Time: prep 1 hr, plus chilling and resting
Cooking Time: cook 15 mins
Serves: makes 16 croissants
Ingredients:
2 cups bread flour
3 1 / 2 tsp instant yeast
2 tbsp sugar
1 tsp salt
3 / 4 cup tepid water
1 cup cold butter, thinly sliced
1 large egg, beaten
Directions:
Place the flour, yeast, sugar, and salt in a large bowl and make a well in the center. Add the water and stir make a soft dough. Knead on a floured surface for 8 minutes, until smooth and elastic Transfer to a buttered bowl, turn to coat, and cover with plastic wrap. Leave in a warm place for 1 hour, until doubled.
Place the butter in a bowl. Work with your knuckles and fingers until malleable but cool. Roll out the dough on a floured surface to a 12 × 6in (30 × 15cm) rectangle. Shape the butter into a 6 × 5in (15 × 13cm) rectangle. Place on one side of the dough and fold the dough over to encase the butter, pinching the seams closed. Roll the dough into a 12 × 6in (30 × 15cm) rectangle. Fold the dough into thirds. Repeat the rolling and folding. Wrap and chill for 20 minutes.
Roll out the dough on a floured surface to a 30 × 15cm (12 × 6in) rectangle. Fold the right third over to the center, then fold the left third over the top so you have 3 layers. Chill for 1 hour, until firm. Repeat the process (rolling and folding twice, with a 20-minute refrigerated rest) two more times. Wrap and chill for 4-24 hours.
Line 2 baking sheets with parchment paper. Roll out the dough on a floured surface into a 14 × 14in (35 × 35cm) square. Cut into four 7in (18cm) squares. Cut each square diagonally into quarters to make 16 triangles. Gently pull and elongate the center point of each triangle. Roll up, ending with the center point on the top of the croissant. Place on the baking sheet, point facing up, curving the triangle into a crescent. Repeat with all the triangles, leaving space between them on the baking sheets. Cover with plastic wrap and leave in a warm place for 11/2 hours, until doubled.
Preheat the oven to 450°F (230°C). Brush the croissants with the egg. Bake for 10 minutes. Reduce the temperature to 375°F (190°C) and bake for 10 minutes more, until golden. Cool on a rack.
Tips:
prep 1 hr, plus chilling and resting; cook 15 mins
excerpted from: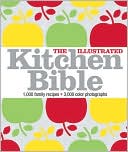 Excerpted from The Illustrated Kitchen Bible.
Copyright © 2008 Dorling Kindersley Limited.
Buy this book now!
Sign-Up Now!
Sign up to save recipes or create shopping lists online.
Already registered? Login here

Cooking Tips
More Videos: