Home > Food > Recipes > Crème Caramel
Crème Caramel
Categories:
Sweet
Type:
Desserts and Baked Goods
Be sure to make this a few hours before serving to chill the custards and make them easier to remove from the ramekins
Prep Time: prep 20 mins, plus chilling
Cooking Time: cook 35-40 mins
Serves: makes 4 servings
Ingredients:
1 1 / 4 cups sugar
2 1 / 4 cups whole milk
1 vanilla bean, split lengthwise
4 large eggs plus 4 large egg yolks
Directions:
Preheat the oven to 325°F (160°C). Pour boiling water into four 7oz (200ml) ramekins and set aside. Heat 1 cup of the sugar and 3 tbsp cold water in a heavy saucepan over a medium heat, stirring until the sugar dissolves. Boil without stirring, brushing down the crystals that form on the side of the pan with a pastry brush dipped in cold water, and swirling the pan by its handle, for about 5 minutes, or until the syrup has turned into a deep amber caramel.
Just before the caramel is done, empty the ramekins. Divide the caramel among the warmed ramekins, swirling each so that the caramel comes halfway up the sides.
Heat the milk and vanilla bean halves over medium heat together until simmering. Using the tip of a knife, scrape the vanilla seeds from the bean halves into the milk and discard the halves.
Whisk the eggs, egg yolks, and remaining 1/4 cup sugar together in a large bowl. Gradually whisk in the hot milk. Pour into the ramekins. Place the ramekins in a roasting pan and add enough hot water to come halfway up the sides of the ramekins. Bake for 25-30 minutes, or until the custards are just set in the center. Remove from the pan. Cool to room temperature. Cover and refrigerate until chilled, at least 3 hours.
One at a time, gently pull the edges of the custard away from the sides of the ramekin using a fingertip. Place a serving plate over the top of the ramekin and invert on to the plate. Serve chilled.
Tips:
prep 20 mins, plus chilling; cook 35-40 mins
Variations
Ginger Crème Caramel: Add 2 tbsp chopped drained stem ginger in syrup to the custard when heating the milk. Substitute 1/4 cup stem ginger syrup for the sugar.
excerpted from: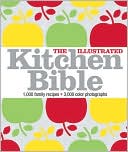 Excerpted from The Illustrated Kitchen Bible.
Copyright © 2008 Dorling Kindersley Limited.
Buy this book now!
Sign-Up Now!
Sign up to save recipes or create shopping lists online.
Already registered? Login here

Cooking Tips
More Videos: