Home > Food > Recipes > Pineapple Flambé
Pineapple Flambé
Categories:
Sweet
Type:
Desserts and Baked Goods
Fresh pineapple is flamed with rum to produce a delicious, show-stopping dessert
Prep Time: prep 15-20 mins
Cooking Time: cook 10 mins
Serves: makes 4 servings
Ingredients:
1 ripe pineapple
1 / 4 cup dark rum or brandy
2 tbsp fresh lime juice
1 / 4 cup butter
1 / 4 cup light brown sugar
ground cinnamon, for dusting
Directions:
Peel the pineapple and remove the "eyes." Slice into rounds about 1/2in (1/3mm) thick, reserving any pineapple juice. Cut out the core using a small round cookie cutter or the tip of a sharp knife.
Place the pineapple and its juices, rum, and lime juice in a large frying pan and cook over medium-low heat about 1 minute, just until the liquid is warm. Carefully ignite the pan juices with a long-handled match. Cook until the flames die down.
Dot the pineapple with the butter and sprinkle with the brown sugar. Cook while gently shaking the pan until the butter and sugar combine into a glaze. Spoon into dessert dishes and serve hot, dusted with the cinnamon.
Tips:
prep 15-20 mins; cook 10 mins
Variations
Apricot Flambé: Cook 10 apricots, halved and pits removed, in 1/4 cup butter for 3-4 minutes, or until softened. Stir in 1/4 cup light brown sugar and the juice of 1/2 lemon. Heat 4 tbsp apricot brandy in a ladle and ignite; pour over the apricots, and allow the flames to die out before serving.
excerpted from: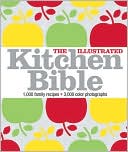 Excerpted from The Illustrated Kitchen Bible.
Copyright © 2008 Dorling Kindersley Limited.
Buy this book now!
Sign-Up Now!
Sign up to save recipes or create shopping lists online.
Already registered? Login here

Cooking Tips
More Videos: