Home > Food > Recipes > French Apple Tart
French Apple Tart
Use two different apple varieties-one to cook into a purée, and the other to create a sliced apple topping that holds its shape
Prep Time: prep 20 mins, plus chilling
Cooking Time: cook 1 hr
Serves: makes 6-8 servings
Ingredients:
1 refrigerated pie dough round for 9in ( 23cm) pie
3 tbsp butter
1lb 10oz ( 750g) McIntosh apples, peeled, cored, and chopped
2 / 3 cup sugar
2 tbsp Calvados or brandy
grated zest and juice of 1 / 2 lemon
2 Granny Smith apples, peeled, cored, and thinly sliced
3 tbsp apricot preserves, warmed and strained
Directions:
Preheat the oven to 400°F (200°C). Fit the pie dough into a 9in (23cm) tart pan with a removable bottom, fitting it tightly into the corners, and trim the excess dough. Prick the dough with a fork. Line with wax paper and fill with baking beans. Place on a baking sheet and bake for 15 minutes, until the dough looks set. Remove the paper and beans and bake until lightly browned, about 5 minutes more. Transfer to a wire rack and let cool. Reduce the oven temperature to 350°F (180°C).
Melt the butter in a medium saucepan over low heat. Add the McIntosh apples and cover tightly with a lid. Cook, stirring occasionally, for 15 minutes, or until broken down into a chunky sauce.
Strain through a coarse sieve into a bowl, then return to the saucepan. Stir in all but 1 tbsp of the sugar, the Calvados, and lemon zest. Cook and stir over medium heat about 5 minutes, until quite thick.
Spoon the applesauce into the tart shell. Arrange the Granny Smith apple slices in concentric circles over the applesauce. Brush with the lemon juice and sprinkle with the reserved sugar.
Bake for 30-35 minutes, or until the apple slices are golden and tender. Brush the top with the warm apricot preserves. Let cool on a wire rack for 15 minutes. Remove the sides of the pan. Serve warm or cold.
Tips:
prep 20 mins, plus chilling; cook 1 hr
excerpted from: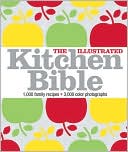 Excerpted from The Illustrated Kitchen Bible.
Copyright © 2008 Dorling Kindersley Limited.
Buy this book now!
Sign-Up Now!
Sign up to save recipes or create shopping lists online.
Already registered? Login here

Cooking Tips
More Videos: