Home > Food > Recipes > Fresh Orange Gelatins
Fresh Orange Gelatins
This jelly is wonderful served after a rich main course, as it is light, refreshing, and not too sweet
Prep Time: prep 20 mins, plus soaking and chilling
Cooking Time: cook 10 mins
Serves: makes 6 servings
Ingredients:
vegetable oil, for the dessert glasses
4 oranges, peeled
3 2 / 3 cups fresh or bottled orange juice, as needed
2 envelopes plain powdered gelatin
1 / 2 cup plain low-fat yogurt, preferably Greek
Directions:
Over a glass measuring cup, cut the oranges into segments, catching the juice in the cup. Lightly oil six 1-cup dessert glasses, ramekins, or gelatin molds. Divide three-fourths of the orange segments among the glasses, reserving the rest for garnish. Add enough orange juice to the measuring cup to reach 33/4 cups. Cover and refrigerate the reserved orange segments.
Pour 1/2 cup of the orange juice in a small heatproof bowl. Sprinkle in the gelatin. Let stand for 5 minutes, until the juice has absorbed the gelatin. Place the bowl in a small frying pan of simmering water. Stir constantly until the gelatin is completely dissolved. Stir about 1/2 cup of the orange juice into the softened gelatin, then mix this back into the measuring cup of juice.
Divide the gelatin mixture among the dessert cups. Refrigerate for at least 2 hours, or until set.
Top each serving with yogurt and a few reserved orange segments, and serve chilled.
Tips:
prep 20 mins, plus soaking and chilling; cook 10 mins
Variations
Grapefruit Gelatins: Substitute 1 or 2 grapefruits, depending on size, for the oranges. Use grapefruit juice or a mixture of grapefruit and orange juice.
excerpted from: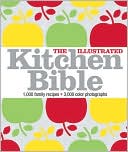 Excerpted from The Illustrated Kitchen Bible.
Copyright © 2008 Dorling Kindersley Limited.
Buy this book now!
Sign-Up Now!
Sign up to save recipes or create shopping lists online.
Already registered? Login here

Cooking Tips
More Videos: