Home > Food > Recipes > Giant chocolate chip cookies (allergy-free)
Giant chocolate chip cookies (allergy-free)
These thick, golden, chewy cookies, crammed full of chocolate chips, are delicious eaten warm, straight from the oven. With dairy-, egg-, and gluten-free variations.
Prep Time: 20M
Cooking Time: 20M
Serves: makes 18 giant or 24 medium cookies
Ingredients:
Nut free
3/4 cup butter
generous 1 cup soft light brown sugar
1/4 cup granulated sugar
21/2 cups all-purpose flour
1/2 tsp baking soda
1/2 tsp salt
1 large egg, beaten
2 tsp vanilla extract
generous 11/2 cups bittersweet or semisweet nut-free
chocolate chips
Directions:
Preheat the oven to 350° F. Line two baking sheets with parchment paper.
Melt the butter in a small saucepan and stir in the sugars, stirring until no lumps remain.
Sift the flour, baking soda, and salt into a mixing bowl.
Add the melted butter and sugars, the beaten egg, and vanilla extract and mix to a soft dough.
Mix in the chocolate chips.
With wet hands, shape the dough into 18 or 24 balls. Place well apart on the prepared baking sheets.
Bake for 20 minutes or until golden and well spread but still slightly soft. Remove from the oven and let cool on the baking sheets for 10 minutes then transfer to a wire rack to cool completely. Store in an airtight container.
Tips:
You can make the dough in advance, roll it into a log, and freeze it, ready for cutting into cookies at a later date.
Variations
Dairy free also nut free: Follow the nut-free recipe, but replace the butter with dairy-free spread and add an extra 1/4 cup of flour. Make sure the chocolate chips are dairy free.
Egg free also nut free: Follow the nut-free recipe, but omit the egg and replace with 1 tablespoon of potato flour added in step 3 and 3 tablespoons of cream, milk, or water in step 4.
Gluten free also nut free: Follow the nut-free recipe, but replace the flour with an equal quantity of gluten-free flour.
excerpted from: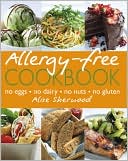 Excerpted from Allergy-Free Cookbook.
Copyright © 2009 Dorling Kindersley Limited.
Buy this book now!
Sign-Up Now!
Sign up to save recipes or create shopping lists online.
Already registered? Login here

Cooking Tips
More Videos: