Home > Food > Recipes > Grilled Mangoes with Ice Cream and Homemade Strawberry Sauce
Grilled Mangoes with Ice Cream and Homemade Strawberry Sauce
Grilled mangoes create a tasty dessert that your family will love.
Ingredients:
2 cups fresh strawberries, washed, hulled, and quartered
1 tablespoon granulated sugar
1 teaspoon fresh lime juice
2 ripe but firm mangoes
2 tablespoons unsalted butter, melted
1 quart (1 liter) really good vanilla ice cream, or other flavor of your choice
Directions:
Build a fire in your grill. When the coals are all ignited, the flames have died down, and the temperature is medium (see Gauging the temperature), you're ready to cook.
Combine the strawberries, sugar, and lime juice in a bowl and mix well, mushing the berries up just a bit as you mix.
Cut the two halves away from the pit of each mango. For each half, crosshatch the flesh without piercing the skin, then, with your thumbs at the center of the skin side, press each half inside-out so that it looks sort of like a porcupine. Brush the cut sides of the mango halves lightly with butter, then put them on the grill directly over the coals, cut side down, and cook until golden brown (6-8 minutes). Flip them over, brush the flesh lightly with butter again, and cook until the butter just starts to caramelize (2-3 minutes more).
Place the hot, grilled mangoes cut side up on dessert plates, top each with a scoop of ice cream, and spoon the strawberry sauce over the top.
excerpted from: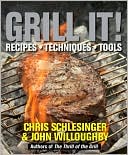 Sign-Up Now!
Sign up to save recipes or create shopping lists online.
Already registered? Login here

Cooking Tips
More Videos: