Home > Food > Recipes > Grilled Tropical Pineapple and Bananas Foster
Grilled Tropical Pineapple and Bananas Foster
Coconut and pineapple make a great addition to this classic dessert.
Ingredients:
2 bananas, unpeeled, halved lengthwise, then halved crosswise
2 slices fresh pineapple, each 1/2 in (1cm) thick, peeled, halved, and cored
2 tablespoons vegetable oil
1/2 cup soft dark brown sugar
4 tablespoons butter
1/4 teaspoon cinnamon
1/4 cup banana liqueur
1/2 cup your favorite dark rum
1 lime, cut in half
1 pint (500ml) your favorite ice cream
1/4 cup toasted shredded coconut (optional)
Directions:
Build a fire in your grill. When the coals are all ignited, the flames have died down, and the temperature is medium (see Gauging the temperature), you're ready to cook.
Rub the banana and pineapple slices lightly with oil and arrange them, bananas cut side down, on the grill over the coals. Cook until the bananas are golden and the pineapple slices have light grill marks-about 2 minutes per side. Peel the bananas once cool enough to handle.
Combine the brown sugar, butter, and cinnamon in a large skillet, and place it on the stove top over medium heat. When the butter and sugar are melted and very hot, mix well and add the grilled pineapple slices and peeled bananas to the skillet, turning in the syrup to coat. Add the liqueur and rum, and as soon as the mixture starts to boil, wave a long, lit match above the surface of the syrup to ignite. Baste the fruit with the syrup until the flames die out, and immediately squeeze the lime halves over the skillet.
Spoon the hot fruit and syrup over bowls of ice cream, sprinkle with coconut, and serve.
excerpted from: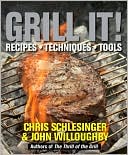 Sign-Up Now!
Sign up to save recipes or create shopping lists online.
Already registered? Login here

Cooking Tips
More Videos: