Home > Food > Recipes > Pistachio Ice Cream
Pistachio Ice Cream
Categories:
Sweet
Type:
Desserts and Baked Goods
Pistachio is rightfully one of the most popular ice cream flavors
Prep Time: prep 25-30 mins, plus freezing
Cooking Time: cook 12-15 mins
Serves: makes 4 servings
Ingredients:
1 1 / 4 cups whole milk
3 large egg yolks
1 / 2 cup sugar
1 / 2 tsp pistachio or almond extract
few drops of green food coloring (optional)
1 1 / 2 cups coarsely chopped pistachios, plus more for garnish
1 1 / 4 cups heavy cream, lightly whipped
Directions:
Bring the milk to a simmer in a heavy-bottomed saucepan over low heat. Beat the egg yolks and sugar in a large bowl until thick and pale. Whisk in the hot milk and then return to the saucepan. Cook the mixture over low heat, stirring constantly, until the custard thickens slightly and coats the back of a spoon. (An instant-read thermometer will read 185°F/85°C.) Do not boil.
Strain through a wire sieve back into the bowl and stir in the extract and a few drops green food coloring, if using. Add the pistachios and let cool. Lightly whip the cream and fold into pistachio custard.
To freeze the ice cream by hand, pour the mixture into a freezer-proof container and freeze for at least 3-4 hours, until icy. Whisk well. Freeze for 2 hours more and whisk again. Cover and freeze until ready to use. To freeze ice cream in an ice cream machine, pour the mixture into the freezing compartment and churn according to the manufacturer's instructions. Transfer to a freezer proof-container, cover, and freeze until ready to use.
Scoop the ice cream into dessert glasses, sprinkle with chopped pistachios, and serve immediately.
Tips:
prep 25-30 mins, plus freezing; cook 12-15 mins
excerpted from: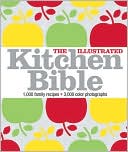 Excerpted from The Illustrated Kitchen Bible.
Copyright © 2008 Dorling Kindersley Limited.
Buy this book now!
Sign-Up Now!
Sign up to save recipes or create shopping lists online.
Already registered? Login here

Cooking Tips
More Videos: