Home > Food > Recipes > Profiteroles
Profiteroles
These little cream puffs, drizzled with chocolate sauce, are a deliciously decadent dessert
Prep Time: 30M, plus cooling
Cooking Time: 30M
Serves: makes 4 servings
Ingredients:
1/2 cup water
1/2 cup all-purpose flour
1/8 tsp salt
4 tbsp butter, cut into 4 slices
2 large eggs, beaten
For the sauce and filling
1 1/2 cups heavy cream
4oz ( 115g) bittersweet chocolate, chopped
2 tbsp butter
2 tbsp light corn syrup
2 tbsp confectioner's sugar
1/2 tsp pure vanilla extract
Directions:
Preheat the oven to 425°F (220°C). Line 2 large baking trays with wax paper. Sift the flour on to a separate piece of wax paper.
To make the cream puffs, combine the water, butter, and salt in a small saucepan and bring to a boil over medium-low heat; make sure the butter melts. Add the flour and cook, stirring, for 1 minute until the mixture forms a very thick paste that lightly covers the bottom of the pan. Remove and cool for 5 minutes.
Gradually stir the eggs into the paste (it will be loose at first, but will come together with stirring) to make a stiff, smooth, and shiny dough. Spoon the dough into a pastry bag fitted with a 1/2in (1cm) plain tip.
Pipe 16 walnut-sized rounds on the prepared baking sheets. Bake for 15-18 minutes, until well puffed and golden. Remove from the oven and make a small slit in the side of each puff to allow the steam to escape. Return to the oven for 3-5 minutes more, until crisp. Cool completely on the sheet.
To make the sauce, bring 1/2 cup of the cream to a simmer in a small saucepan over medium heat. Remove from the heat and add the chocolate, butter, and syrup. Let stand until the chocolate is softened, then whisk until smooth. Keep warm.
To make the filling, clean the pastry bag and tip. Whip the remaining 1 cup cream with the confectioner's sugar and vanilla in a chilled bowl until stiff. Transfer to the pastry bag fitted with the tip. Cut each puff in half crosswise. Fill the bottom half of each with whipped cream and replace the top.
To serve, pour the sauce over the puffs and serve at once.
Tips:
unfilled cream puffs can be cooled and packed into freezer bags or an airtight container and frozen for up to 3 months; thaw at room temperature for 30 mins before filling and serving
Variations
Chocolate Eclairs: Instead of piping mounds on to the prepared baking sheets, pipe 2in (5cm) lengths and bake as for the puffs. You should be able to make 10 eclairs. Let them cool, then fill as for the puffs, and spread with 51/2oz (150g) melted bittersweet chocolate that has been allowed to cool. Let set for a few minutes in the refrigerator before serving.
excerpted from: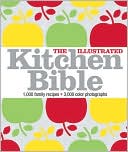 Excerpted from The Illustrated Kitchen Bible.
Copyright © 2008 Dorling Kindersley Limited.
Buy this book now!
Sign-Up Now!
Sign up to save recipes or create shopping lists online.
Already registered? Login here

Cooking Tips
More Videos: