Home > Food > Recipes > Quick Soda Bread
Quick Soda Bread
Soda bread is the traditional Irish bread and is bread-making at its quickest; you don't have to wait for yeast to work or the loaf to rise. With a gluten-free variation.
Prep Time: 8M
Cooking Time: 50M
Serves: makes 1 loaf
Ingredients:
Egg & nut free
2 cups all-purpose flour, plus extra for dusting
2 cups whole-wheat flour
1 tsp salt
2 tsp baking soda
2 tsp cream of tartar
1 tsp superfine sugar
3 tbsp vegetable shortening or lard
1 × 91/2 fl oz carton of buttermilk
about 3 tbsp milk
Directions:
Preheat the oven to 375° F.
Sift the flours, salt, baking soda, cream of tartar, and sugar into a large bowl. Tip in any bran that remains in the sieve.
Using your fingertips, rub the shortening or lard into the flours until the mixture resembles breadcrumbs. Make a well in the center of the flour mixture and add the buttermilk. Stir with a round-bladed knife, adding enough milk to form a soft, but not sticky dough. You may need more or less liquid depending on the absorbency of the flours you've used. You need to work quickly now, since the rising agents will start to work once the liquid is added, and you don't want the leavening to finish before you get the dough into the oven.
Knead the dough very briefly on a floured surface. Do not spend more than a couple of minutes on this since overworked bread will be tough and heavy.
Shape into a 6 inch round, place on a greased baking sheet, and flatten slightly to 2 inch thick. Dust with flour.
With a knife dipped in flour, make a deep cross in the top of the bread so that it will break easily into quarters when baked.
Bake until well risen and brown and the base sounds hollow when tapped, about 50 minutes.
Place on a wire rack to cool slightly and cover with a cloth to keep the bread moist.
Tips:
The buttermilk makes a moist, light loaf and, with the cream of tartar, provides the slightly acid environment that the baking soda needs to work. If you can't get buttermilk, use plain yogurt or the "sour milk" substitution given in the dairy-free recipe, either with soy milk or dairy milk.
Variations
Dairy free also egg & nut free: Follow the recipe for Egg & nut free, but use soy yogurt in place of the buttermilk. You can also use soy, oat, or rice milk, replacing 1 tablespoon of the milk with 1 tablespoon of lemon juice or cider vinegar to "sour" it. For either option, have 3 tablespoons of dairyfree milk on hand to add in to form a soft but not sticky dough.
Gluten free also nut free: Follow the recipe for Egg & nut free, but substitute gluten-free all-purpose flour for the all-purpose and wholewheat flours, or use half gluten-free all-purpose flour and half buckwheat flour. Add 2 teaspoons of xanthan gum with the flour and 1 large egg, beaten with the buttermilk.
excerpted from: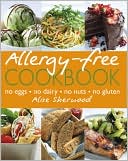 Excerpted from Allergy-Free Cookbook.
Copyright © 2009 Dorling Kindersley Limited.
Buy this book now!
Sign-Up Now!
Sign up to save recipes or create shopping lists online.
Already registered? Login here

Cooking Tips
More Videos: