Home > Food > Recipes > Raspberry Charlotte
Raspberry Charlotte
This is a show-stopper dessert with tart raspberry mousse surrounded by tender lady fingers
Prep Time: prep 50 mins, plus chilling
Cooking Time: cook 10 mins
Serves: makes 6 servings
Ingredients:
18-20 lady fingers, halved crosswise
2 cups whole milk
1 vanilla bean, split lengthwise
5 large egg yolks
1 / 3 cup sugar
2 envelopes unflavored gelatin powder
1 cup heavy cream
three 6oz ( 168g) baskets fresh raspberries
confectioner's sugar, to garnish
Directions:
Line the bottom of the cake pan with wax paper. Arrange the lady fingers, sugar side out, around the sides of the pan.
Bring the milk and vanilla to a simmer in a medium saucepan over low heat. Whisk the egg yolks and sugar together in a bowl until pale. Remove the vanilla bean and whisk the milk mixture into the bowl. Rinse out the saucepan. Return the custard to the saucepan and stir over medium-low heat until the mixture is thick enough to coat the spoon (185°F/85°C). Pour through a wire sieve into a clean bowl.
Sprinkle the gelatin over 1/8 cup water in a small heatproof dish. Let stand for 5 minutes, until spongy. Place the dish in a frying pan of very hot water and stir until the gelatin dissolves. Stir into the custard and mix well. Place the bowl in a larger bowl of ice water and let stand, stirring often, until the custard is almost set.
Beat the cream just until soft peaks form. Fold the cream into the custard. Stir in half the raspberries. Carefully spoon into the lady finger- lined pan. Cover and refrigerate for at least 3 hours to set completely.
Invert the pan onto a platter to unmold. Arrange the remaining raspberries on top. Sprinkle with confectioner's sugar and serve chilled.
Tips:
prep 50 mins, plus chilling; cook 10 mins
Variations
Chocolate Charlotte: Omit the vanilla and raspberries. Add 6oz (175g) bittersweet chocolate to the hot custard; whisk until smooth. Decorate with grated chocolate.
excerpted from: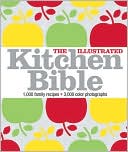 Excerpted from The Illustrated Kitchen Bible.
Copyright © 2008 Dorling Kindersley Limited.
Buy this book now!
Sign-Up Now!
Sign up to save recipes or create shopping lists online.
Already registered? Login here

Cooking Tips
More Videos: