Home > Food > Recipes > Ranch-style Eggs with Refried Beans
Ranch-style Eggs with Refried Beans
Serve this filling dish for breakfast, and you won't have to be concerned about what to make for lunch
Prep Time: prep 25 mins
Cooking Time: cook 35 mins
Serves: makes 4 servings
Ingredients:
For the beans
two 15oz (420g) cans pinto beans
3 tbsp lard or vegetable oil
1 onion, chopped
3 garlic cloves, chopped
1 vegetable stock cube, crumbled, or salt to taste
For the sauce
4 small dried hot red pequin chiles
1 / 4 cup boiling water
1 1 / 2 lb ( 750g) ripe tomatoes, peeled
1 onion, chopped
2 garlic cloves, chopped
1 tbsp olive oil
2 tbsp white wine vinegar
2 tbsp tomato paste
1 tsp ground cumin
1 tsp dried oregano
1 / 2 tsp sugar
For the eggs
4 corn tortillas
6 tbsp vegetable oil
4 large eggs
1 avocado, pitted, peeled, and sliced
1 tbsp chopped cilantro
Directions:
To make the beans, drain the beans, reserving some of the liquid from the can. Rinse the beans. Heat the lard in a frying pan over medium heat. Add the onion and garlic and cook about 7 minutes, until the onion is golden. Increase the heat to medium high. In batches, add the beans and stir and mash them with a wooden spoon, adding some of the bean liquid, as needed, to make a coarse puree. Add the stock cube and reduce the heat to low. Cook, stirring often, until thick.
To make the sauce, combine the chiles and boiling water in a small bowl and soak for 15 minutes. Drain, discarding the liquid. Puree the tomatoes, chiles, onion, and garlic in a blender. Heat the oil in a large frying pan over medium heat. Add the tomato mixture and cook, stirring frequently, about 5 minutes. Add the vinegar, tomato paste, cumin, oregano, and sugar and simmer over medium-low heat for 10 minutes.
To assemble, heat 4 tbsp of the oil in a frying pan over high heat until shimmering. Fry each tortilla for approximately 30 seconds on each side, until hot but not crisp. Transfer to paper towels. Add the remaining 2 tbsp oil to the pan. Add the eggs and fry according to your taste.
To serve, place each tortilla on a dinner plate and top with an egg. Spoon some of the tomato sauce over each, and garnish with the avocado slices and cilantro. Add a spoonful of the beans to each tortilla, and serve hot.
Tips:
prep 25 mins; cook 35 mins
excerpted from: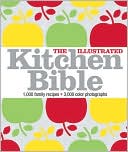 Excerpted from The Illustrated Kitchen Bible.
Copyright © 2008 Dorling Kindersley Limited.
Buy this book now!
Sign-Up Now!
Sign up to save recipes or create shopping lists online.
Already registered? Login here

Cooking Tips
More Videos: