Home > Food > Recipes > Barbecue-Rubbed, Smoke-Roasted Whole Chickens with Apple Cider Barbecue Sauce
Barbecue-Rubbed, Smoke-Roasted Whole Chickens with Apple Cider Barbecue Sauce
This approach to grilling a whole chicken is a breeze to make, and delicious when coated with a simple but luscious ketchup-brown sugar paste.
Ingredients:
3/4 cup ketchup
2 tablespoons dark brown sugar
1 teaspoon ground coriander
1 teaspoon ground cumin
2 whole chickens, 3lb (1.35kg) each
Kosher salt and freshly cracked black pepper
The sauce
1 cup apple cider
1/2 cup cider vinegar
2 tablespoons finely minced orange zest
2 tablespoons dark brown sugar
1 tablespoon celery seeds
Directions:
Light a fire well over to one side of your grill, using enough coals to fill 11/2 large shoeboxes.
Combine the ketchup, brown sugar, coriander, and cumin in a small bowl and mix well.
Place one chicken on a work surface, breast side up, and push down hard to flatten it as much as possible. Repeat with the second bird. Sprinkle them generously with salt and pepper and coat thoroughly with the ketchup mixture.
When the fire has died down and the coals are covered with white ash, place the chickens on the side of the grill away from the coals, breast side down, legs facing toward the coals, being careful that none of the meat is directly over the coals. Put the lid on the grill with the vents open one-quarter of the way. Cook for 30 minutes, then turn the chickens breast side up, add another 1/2 shoebox of fresh charcoal, and continue cooking for 30-45 minutes more. To check for doneness, make a cut into the thickest part of one thigh, all the way to the bone; there should be no sign of pink. (It's not easy to take the temperature of a flattened bird, but if you do use a thermometer, look for a final temperature of 160°F/71°C.)
Meanwhile, make the barbecue sauce on the stove top: Combine the sauce ingredients in a small saucepan over medium-high heat and bring just to a boil. Reduce the heat to low and simmer, stirring frequently, until thick, syrupy, and reduced by about two-thirds (about 20 minutes). Transfer the sauce to a serving bowl.
When the chickens are done, transfer them to a cutting board, cover loosely with foil, and allow them to rest for about 10 minutes. Carve each chicken into 6 pieces and serve, along with the barbecue sauce.
excerpted from: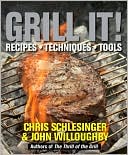 Sign-Up Now!
Sign up to save recipes or create shopping lists online.
Already registered? Login here

Cooking Tips
More Videos: