Home > Food > Recipes > Beef Stuffed with Prunes and Cashew Nuts
Beef Stuffed with Prunes and Cashew Nuts
Prunes and cashew nuts lend an elegant flair to this tasty beef recipe.
Prep Time: 20M
Cooking Time: 2H
Serves: Serves 6
Ingredients:
1 cup cashews
1/2 cup pitted prunes, coarsely chopped
handful of flat-leaf parsley
3 garlic cloves, coarsely chopped
sea salt and freshly ground black pepper
3lb (1.35kg) top round (silverside of beef)
hot chili oil or olive oil
12-14oz (400g) shallots, peeled
Directions:
Preheat the oven to 425°F (220°C). Combine the cashews, prunes, parsley, and garlic in a food processor and pulse until well chopped. Do not over-process. Season with salt and freshly ground black pepper and pulse again.
Place the beef on a work surface and make a cut about 3/4in (2cm) in from the right side. Slice downward, stopping about 3/4in (2cm) from the bottom. Then slice into the beef horizontally, stopping just before you reach the end. Then slice upward, almost to the top; and finally across, almost to the opposite end. "Unfold" the meat so it resembles an open book. Spread the prune mixture over the cut surface. Now, carefully roll up the beef to enclose the filling, place it seam-side down on a work surface, and tie securely with string. Transfer to a roasting pan and season.
Drizzle with the oil and add the shallots to the pan. Put in the oven to roast for 15-20 minutes or until browned, then turn down the oven to 350°F (180°C) and roast for 1 hour if you prefer your beef rare, 1 hour 20 minutes for medium, or 1 hour 40 minutes for well-done. To test if the meat is cooked to your liking, pierce it with the tip of a sharp knife-if it's still bloody, it's rare. If the juices run clear, it's medium to well-done.
Remove from oven and keep warm while it rests for 15 minutes. Carve, then serve with vegetables.
Tips:
If you prefer, ask your butcher to cut the beef for you. Also ask for some butchers' twine to tie up the roast; otherwise, just use ordinary white cotton string. There should be enough roast beef left over for sandwiches the next day.
excerpted from: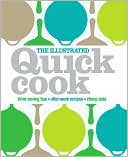 Excerpted from The Illustrated Quick Cook.
Copyright © 2009 Dorling Kindersley Limited.
Buy this book now!
Sign-Up Now!
Sign up to save recipes or create shopping lists online.
Already registered? Login here

Cooking Tips
More Videos: