Home > Food > Recipes > Black Pepper-Crusted Grilled Ribeye with Blue Cheese-Pecan Butter
Black Pepper-Crusted Grilled Ribeye with Blue Cheese-Pecan Butter
Freshly cracked black pepper, red pepper flakes, and butter enriched with blue cheese and toasted pecans is a great way to enhance a ribeye steak.
Ingredients:
1/2 cup freshly cracked black pepper
1/4 cup kosher salt
1 tablespoon red pepper flakes
4 boneless ribeye steaks, about 1in (2.5cm) thick, 12-14oz (350-400g) each
2 tablespoons olive oil
The butter
1 tablespoon chopped pecans
1/4 cup unsalted butter, softened
1/4 cup crumbled blue cheese
1 teaspoon fresh lemon juice
Directions:
Toast the pecans: Heat the oven to 350°F (180°C), spread the pecans over a shallow baking pan, and cook, checking frequently, until golden (5-10 minutes). Allow to cool.
Combine the butter, blue cheese, pecans, and lemon juice in a small bowl and mix well. Pile the butter mixture onto a piece of wax paper or plastic wrap, form it into a rough cylinder, and wrap it up. Refrigerate until firm. (This butter will keep in the refrigerator for a week, or frozen for several months.)
Build a fire in your grill. When the coals are all ignited, the flames have died down, and the temperature is hot (see Gauging the temperature), you're ready to cook.
Combine the black pepper, salt, and red pepper flakes in a small bowl and mix well. Rub the steaks all over with oil and coat generously with the spice mixture, pressing gently to be sure it adheres.
Put the steaks on the grill over the hottest part of the fire and cook, turning once, until very well seared-about 6-8 minutes per side for rare. To check for doneness, poke the steaks with your finger to test their firmness (see The "hand method"); if you're unsure, make a small cut in the thickest part of one steak to be sure it is just slightly less done than you like it.
While the steaks are cooking, cut the chilled blue cheese butter into 1/4in (5mm) slices. As soon as the steaks come off the grill, top each steak with a slice or two of the butter, so it starts to melt as you serve the steaks.
excerpted from: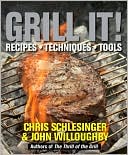 Sign-Up Now!
Sign up to save recipes or create shopping lists online.
Already registered? Login here

Cooking Tips
More Videos: