Home > Food > Recipes > Cassoulet
Cassoulet
A hearty bean and meat dish from southwest France
Prep Time: prep 30 mins, plus soaking
Cooking Time: cook 3 hrs 45 mins
Serves: makes 4 servings
Ingredients:
2 cups dried Great Northern beans
1 tbsp olive oil
8 Italian pork sausages
9oz ( 250g) pancetta, diced
2 onions, finely chopped
1 carrot, chopped
3 garlic cloves, minced
4 duck legs
1 sprig of thyme
1 bay leaf
salt and freshly ground black pepper
2 tbsp tomato paste
3 1 / 2 cups hot water
one 14.5oz ( 411g) can chopped tomatoes
1 cup white wine
2 cups bread crumbs
1 garlic clove, minced
1 tbsp chopped parsley
Directions:
Place the beans in a large saucepan and add enough cold water to cover by 1in (2.5cm). Bring to a boil over high heat. Cook for 10 minutes. Remove from the heat, cover, and let stand 2-3 hours. Drain.
Heat the olive oil in a large frying pan over medium-high heat. Add the sausages and cook for 7-8 minutes, until browned. Transfer to a plate. Add the pancetta and cook for 5 minutes, until browned. Transfer to the sausages. Add the onions and carrot and reduce the heat to medium. Cook, stirring occasionally, for 10 minutes, or until tender. Add the garlic and cook for another minute. Set aside for 1 minute.
Preheat the oven 425°F (220°C). Prick the duck skin all over with a fork and put on a rack in a roasting pan. Roast for 30 minutes, until lightly browned. Transfer the duck to the sausages and reserve 2 tbsp of the fat in the pan. Reduce the oven temp to 275°F (140°C).
In a large flameproof casserole, layer half the beans, the onions and carrot, sausages, pancetta, duck legs, thyme, and bay leaves, followed by the remaining beans.
Dissolve the tomato paste in the hot water, then stir in the tomatoes and their juices and the wine. Pour over the beans. Cover and bake for 2 hours. Remove from the oven and uncover. The cassoulet should be thick, but moist. Taste and season with salt and pepper and add a little hot water, if needed. Return to the oven and bake, uncovered, for 1 hour more.
To make the topping, mix the bread crumbs and garlic. Heat the reserved duck fat in a large skillet over medium heat. Add the crumbs and cook, stirring often, about 7 minutes, until golden brown. Drain on paper towels. Stir in the parsley. Remove the cassoulet from the oven and stir. Sprinkle the bread crumb topping over in a thick, even layer, and serve hot.
Tips:
prep 30 mins, plus soaking; cook 3 hrs 45 mins
excerpted from: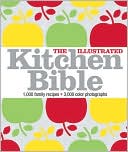 Excerpted from The Illustrated Kitchen Bible.
Copyright © 2008 Dorling Kindersley Limited.
Buy this book now!
Sign-Up Now!
Sign up to save recipes or create shopping lists online.
Already registered? Login here

Cooking Tips
More Videos: