Home > Food > Recipes > Chile-Garlic-Rubbed Grilled Chicken Breast with Lemongrass-Ginger Slaw
Chile-Garlic-Rubbed Grilled Chicken Breast with Lemongrass-Ginger Slaw
The slaw lends a great, subtle complement to the robust flavor of the chicken, and the unique aromatic taste of the lemongrass is fantastic.
Ingredients:
3 tablespoons Asian sesame oil
2 tablespoons minced fresh garlic
2 tablespoons minced fresh chile pepper of your choice
2 tablespoons kosher salt
2 tablespoons freshly cracked black pepper
4 boneless, skin-on full chicken breasts, 10-12oz (300-350g) each
The slaw
1/3 cup rice wine vinegar
3 tablespoons soy sauce
1 tablespoon Asian sesame oil
2 tablespoons peeled and minced fresh ginger
2 stalks lemongrass, minced (use the tender, inner portion of the bottom third only)
2 tablespoons roughly chopped fresh Thai basil (or substitute regular basil)
Juice of 1 lime (about 2 tablespoons)
2 tablespoons granulated sugar
Kosher salt and freshly cracked black pepper to taste
1/2 small head Napa cabbage, cut crosswise into thin strips (about 2 cups)
Directions:
Build a fire in your grill. When the coals are all ignited, the flames have died down, and the temperature is medium (see Gauging the temperature), you're ready to cook.
Combine the sesame oil, garlic, chiles, salt, and pepper in a small bowl and mix well. Rub the chicken breasts with the sesame mixture, place them on the grill, skin side down, and cook, turning once, until they are opaque all the way through (7-9 minutes per side). To check for doneness, poke the chicken with your finger to test its firmness (see The "hand method"); if you're unsure, make a small cut in the thickest part of the largest breast to be sure that it is opaque all the way through.
While the chicken is on the grill, combine all of the slaw ingredients except the cabbage in a small bowl and whisk until well blended. Put the cabbage in a large bowl, add enough dressing to just moisten it, and toss until the cabbage is well coated. Divide the slaw among 4 plates.
When the chicken is done, transfer the breasts to a carving board and slice them crosswise into strips. Fan the chicken over the slaw on each plate, and drizzle with any remaining dressing.
excerpted from: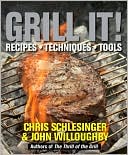 Sign-Up Now!
Sign up to save recipes or create shopping lists online.
Already registered? Login here

Cooking Tips
More Videos: