Home > Food > Recipes > Chili Con Carne
Chili Con Carne
This is a joyous dish that is gloriously "everything free"-- no dairy, egg, gluten or nuts.
Prep Time: 12M
Cooking Time: 2H
Serves: serves 4
Ingredients:
Dairy, egg, gluten, & nut free
1 tbsp corn or vegetable oil
2 onions, finely chopped
2 garlic cloves, finely chopped
1 red or green bell pepper, seeded and diced
2 tsp hot chili powder or 2 tbsp mild chili seasoning
1/2 tsp red pepper flakes
1/2 tsp ground cumin
1 lb lean beef, ground or cut into small cubes
1 × 14 oz can of chopped tomatoes
1 scant cup tomato paste
1 scant cup water
1 × 14 oz can red kidney beans, drained and rinsed
salt to season
Directions:
Heat the oil in a flameproof casserole dish. Fry the onion, garlic, pepper, and spices gently for about 4 minutes, until the vegetables are softened and lightly golden.
Add the beef and fry until browned. If using ground, use a wooden spoon and turn constantly to break up any lumps.
Add the remaining ingredients and season to taste. Bring to a boil, reduce the heat, cover, and simmer gently for 1 hour, stirring occasionally. Remove the lid and continue to simmer until rich and tender, another 1 hour, stirring occasionally to prevent sticking. Taste and re-season if necessary.
Tips:
Watch out for chili since some people can't tolerate it. Leaving out chili and red pepper flakes turns it into something closer to a ragu-still good, but definitely not a chili con carne.
This is a great "do ahead" dish, because it improves with reheating.You can make this serve 5-6 people by adding another drained can of red kidney beans.The amount of chili powder is very much a matter of taste. This one is fairly hot. You can use pure chili powder or the milder chili seasoning, which is a mix of chili with other spices and oregano. Add as little or as much as you like.
s Serve with cornbread or boiled long-grained rice. Top with wedges of fresh lime, parsley, chopped avocados, tomatoes, scallions, guacamole, and salsa.Sour cream and grated cheddar or Monterey Jack cheese are traditional accompaniments. If you are allergic to dairy, use nondairy sour cream and buy some of the excellent nondairy cheddar and Monterey Jack cheeses available.
excerpted from: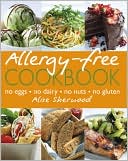 Excerpted from Allergy-Free Cookbook.
Copyright © 2009 Dorling Kindersley Limited.
Buy this book now!
Sign-Up Now!
Sign up to save recipes or create shopping lists online.
Already registered? Login here

Cooking Tips
More Videos: