Home > Food > Recipes > Coriander-Crusted Grilled Halibut Steaks with Fresh Tomato-Mint Chutney
Coriander-Crusted Grilled Halibut Steaks with Fresh Tomato-Mint Chutney
Halibut has a delicate flavor that pairs perfectly with light, bright, citrusy flavors.
Ingredients:
1/4 cup freshly cracked coriander seeds
2 teaspoons freshly cracked white pepper
1 tablespoon kosher salt
4 halibut steaks about 1in (2.5cm) thick, 8-10oz (225-280g) each
2 tablespoons olive oil
The chutney
2 ripe tomatoes, each about the size of a baseball, cored and diced medium (about 11/2 cups)
1/4 of a medium cucumber, diced medium (about 1/2 cup)
Juice of 2 lemons (about 1/2 cup)
1/4 cup roughly chopped fresh mint
2 tablespoons peeled and minced fresh ginger
1 tablespoon Asian sesame oil
1 tablespoon minced fresh chile pepper of your choice
Kosher salt and freshly cracked black pepper to taste
Directions:
Build a fire in your grill. When the coals are all ignited, the flames have died down, and the temperature is medium-hot (see Gauging the temperature), you're ready to cook.
Combine the coriander, white pepper, and salt in a small bowl and mix well. Rub the halibut with the oil and coat with the coriander mixture, pressing gently so it adheres. Put the fish on the grill directly over the coals and cook until it is just opaque throughout (5-6 minutes per side). To check for doneness, poke the fish with your finger to test its firmness (see The "hand method"); if you're unsure, make a cut in one of the steaks to be sure it is just opaque all the way through.
While the fish is on the grill, combine the chutney ingredients in a small bowl and toss until well mixed.
Arrange the halibut steaks on a platter, top each one with a spoonful of the chutney, and serve, passing the remaining chutney on the side.
excerpted from: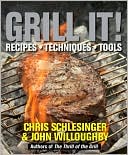 Sign-Up Now!
Sign up to save recipes or create shopping lists online.
Already registered? Login here

Cooking Tips
More Videos: