Home > Food > Recipes > Fish Pie
Fish Pie
This recipe is a winning combination of firm white fish and shrimp in a creamy, parsley-flecked bechamel sauce under a mound of crispy-topped mashed potato. Makes a fabulous lunch or supper dish.
Prep Time: 1H15M
Cooking Time: 45M
Serves: serves 4-6
Ingredients:
Egg & nut free
1 lb 10 oz cod, halibut, or other white fish, filleted
8 1/2 oz smoked haddock or other smoked fish
2 1/2 cups milk
1 small onion, roughly chopped
bay leaf (optional)
scant 1/2 cup butter
1/4 cup all-purpose flour
3 1/4 lb potatoes peeled and quartered
2 tbsp light cream or milk
salt and freshly ground black pepper to season
8 oz cooked peeled shrimp
1 tbsp capers in brine, drained, rinsed and chopped (optional)
2 tbsp chopped fresh parsley leaves
2 tbsp grated Parmesan cheese
Directions:
Preheat the oven to 375° F.
Put the fish in a large saucepan, add the milk, and poach the fish gently for 5 minutes; it should be slightly undercooked at this stage.
Transfer the fish to a plate with a slotted spoon. When cool, remove the skin, cut the fish into large chunks, and place in a 1.5 quart ovenproof dish.
Add the chopped onion and bay leaf (if using) to the fish milk. Bring to a boil. Remove from the heat and let stand for 10 minutes. Strain.
Make a white sauce by melting 3 tbsp butter in a saucepan and stirring in the flour. Cook, stirring for 1 minute. Whisk in the infused milk a little at a time, ensuring there are no lumps. When all the milk is incorporated, bring to a boil and cook for 2 minutes, whisking all the time. Remove from the heat.
Meanwhile, boil the potatoes for about 15 minutes or until cooked through. Mash with the remaining butter and the cream or milk and season with salt and pepper.
Add the shrimp, capers, and parsley to the fish, season with salt and pepper, and pour over the white sauce. Top with the mashed potatoes and use a fork to rough up the surface for crispy bits when cooked. Dust with Parmesan, if desired. Bake for 45 minutes until the top is crispy and golden.
Tips:
Watch out for fish and crustaceans. If allergic to crustaceans but not white fish, omit the shrimp and increase the fish to a total of 23/4 lb.If you follow a gluten-free diet, make sure you buy capers in brine rather than malt vinegar.
Variations
Dairy free (also egg & nut free): Follow the recipe for Egg & nut free, but substitute dairy-free spread for butter; dairy-free soy, rice, or oat milk for cow's milk; and soy cream alternative for light cream. Use dairy-free Parmesan.
Gluten free (also egg & nut free): Follow the recipe for egg & nut free, but for the white sauce, substitute gluten-free all-purpose flour or a half and half mix of rice flour and cornstarch for the all-purpose flour. You may need to increase the milk slightly to get a thick pouring sauce if using all gluten-free all-purpose flour.
excerpted from: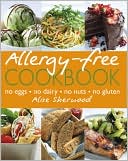 Excerpted from Allergy-Free Cookbook.
Copyright © 2009 Dorling Kindersley Limited.
Buy this book now!
Sign-Up Now!
Sign up to save recipes or create shopping lists online.
Already registered? Login here

Cooking Tips
More Videos: