Home > Food > Recipes > Fisherman's Pie
Fisherman's Pie
A British favorite, with its creamy filling and mashed-potato topping. It can be as luxurious or as homely as desired, depending on the seafood used.
Prep Time: prep 25 mins
Cooking Time: cook 50 mins-1 hr
Serves: makes 4 servings
Ingredients:
1lb ( 450g) baking potatoes, such as Burbank or russet, peeled and cut into 1in ( 2.5cm) chunks
1 3 / 4 cups whole milk
8 tbsp butter
salt and freshly ground black pepper
1 1 / 2 lb haddock or cod fillets
10oz ( 300g) medium shrimp, peeled and deveined, shells reserved
4 black peppercorns, lightly crushed
1 bay leaf
1 / 4 cup all-purpose flour
2 tbsp heavy cream
1 tbsp chopped parsley
1 / 2 tsp fresh lemon juice
pinch of cayenne pepper
Directions:
Boil the potatoes in a large saucepan of lightly salted water about 15 minutes, or until tender. Drain well. Mash until smooth, then beat in 1/3 cup milk and 3 tbsp butter. Season with salt and pepper.
Meanwhile, combine the haddock and remaining milk in a large frying pan. Simmer about 10 minutes until the fish flakes easily. Use a slotted spoon to transfer the fish to a plate. Add the shrimp shells (reserve the shrimp), peppercorns, and bay leaf to the milk and simmer over very low heat for 10 minutes.
Preheat the oven to 425°F (220°C). Melt 4 tbsp butter in a saucepan over medium heat. Whisk in the flour and cook for 1 minute. Strain the milk mixture into the saucepan and whisk well. Cook, whisking often, until the sauce comes to a boil and thickens.
Stir in the cream, parsley, and lemon juice, and season with the cayenne, salt, and pepper. Flake in the fish and add the reserved shrimp.
Spoon the fish mixture into a baking dish, top with the mashed potatoes, and dot with the final 1 tbsp butter. Place on a baking sheet. Bake for 20-25 minutes, or until the topping is golden and the filling is hot when you stick a knife into it.
Tips:
prep 25 mins; cook 50 mins-1 hr
excerpted from: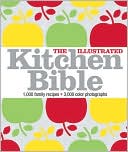 Excerpted from The Illustrated Kitchen Bible.
Copyright © 2008 Dorling Kindersley Limited.
Buy this book now!
Sign-Up Now!
Sign up to save recipes or create shopping lists online.
Already registered? Login here

Cooking Tips
More Videos: