Home > Food > Recipes > Grill-Roasted, Herb-Crusted, Bone-in Pork Loin with Mostarda Di Frutta
Grill-Roasted, Herb-Crusted, Bone-in Pork Loin with Mostarda Di Frutta
Pork, fruit, and mustard work perfect with an herb-rubbed pork loin.
Ingredients:
1/4 cup olive oil
1/4 cup roughly chopped fresh sage
2 tablespoons crushed fennel seed
2 tablespoons minced garlic
1 bone-in, center-cut pork loin, about 5lb (2.25kg)
Kosher salt and freshly cracked black pepper to taste
The mostarda
1 cup water
1/2 cup dry mustard
1/2 cup distilled white vinegar
1/4 cup dark brown sugar
1 tablespoon peeled and minced fresh ginger
1/3 cup raisins
1/3 cup each: diced dried apricots, diced dried peaches, diced dried figs, and diced dried mango
Kosher salt and freshly cracked black pepper to taste
Directions:
Light a fire well over to one side of your grill, using enough coals to fill half a shoebox.
Mash together the oil, sage, fennel, and garlic in a small bowl to form a loose paste. Dry the pork well with paper towels, season it generously with salt and pepper, and rub the pork all over with the seasoning paste.
When the fire has died down and the coals are covered in white ash, place the roast on the side of the grill away from the coals, being careful that none of the meat is directly over the coals. Put the lid on the grill with the vents open one-quarter of the way and cook, adding a handful of fresh charcoal about every 30 minutes, until the pork is done (about 1 hour). To check for doneness, insert a meat thermometer into the center of the roast, without touching the bone; let it sit for 5 seconds, then read the temperature: look for 134°F (57°C) for medium, 150°F (66°C) for medium-well done, and 160°F (71°C) for well done. We like to pull the meat at 147°F (64°C). When the roast is done to your liking, remove it from the grill, cover it loosely with foil, and let it rest for about 20 minutes.
While the pork cooks, make the mostarda: Whisk the water and dry mustard together in a small bowl until smooth; set aside. On the stove top, combine the vinegar, sugar, and ginger in a small saucepan over medium-high heat, stirring until the sugar dissolves and the mixture comes to a boil. Reduce the heat to low and simmer, stirring very frequently, until thickened (about 10 minutes). Add the mustard and mix well, then stir in all of the dried fruits and continue to simmer gently until thickened (15-20 minutes more). Add salt and pepper to taste, and transfer to a serving bowl.
To serve, carve the pork between the bone, arrange the meat on a platter, and pass the mostarda on the side.
excerpted from: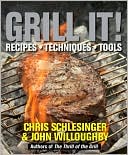 Sign-Up Now!
Sign up to save recipes or create shopping lists online.
Already registered? Login here

Cooking Tips
More Videos: