Home > Food > Recipes > Grill-Seared Double-Thick Tuna Steaks with Pickled Ginger, Wasabi, and Soy
Grill-Seared Double-Thick Tuna Steaks with Pickled Ginger, Wasabi, and Soy
The key to this dish is super-fresh tuna, and pickled ginger and wasabi round out the flavors perfectly
Ingredients:
1/4 cup sesame seeds
4 hyper-fresh tuna steaks, about 3in (7.5cm) thick, 8-10oz (225-280g) each
3 tablespoons Asian sesame oil
2 tablespoons freshly cracked white pepper
2 tablespoons kosher salt
4 scallions, ends trimmed, cut into thin strips
1/4 cup pickled ginger
3 tablespoons wasabi powder, mixed with water to the consistency of wet sand
1/3 cup soy sauce, preferably the aged, dark kind
Directions:
Build a fire in your grill. When the coals are all ignited, the flames have died down, and the temperature is hot (see Gauging the temperature), you're ready to cook.
Lightly toast the sesame seeds in a dry skillet on the grill, shaking them frequently to prevent burning, until they are just a shade darker. (You can alternatively do this over medium heat on the stove top.) Set them aside.
Rub the tuna steaks all over with the sesame oil, sprinkle with the white pepper and salt, then put them on the grill directly over the coals and sear well on both sides (4-5 minutes per side). When you have a dark brown, crispy crust on both sides, grill the steaks on each of the 4 edges for about 2 minutes, aiming to achieve the same dark, crusty effect. Transfer to a serving platter or individual plates.
Scatter the scallions and sesame seeds over the tuna, and serve with the pickled ginger, wasabi, and soy sauce on the side.
excerpted from: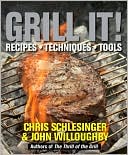 Sign-Up Now!
Sign up to save recipes or create shopping lists online.
Already registered? Login here

Cooking Tips
More Videos: