Home > Food > Recipes > Grilled Bone-in Chicken Breasts with Grilled Apples and Golden Raisin Vinaigrette
Grilled Bone-in Chicken Breasts with Grilled Apples and Golden Raisin Vinaigrette
This simple late summer/early fall recipe takes advantage of grilled apples.
Ingredients:
4 bone-in, skin-on split chicken breasts, 10-12oz (300-350g) each
2 tablespoons vegetable oil
Kosher salt and freshly cracked black pepper
The apples
2 Granny Smith or other green apples, halved through the stem and cored
1 tablespoon vegetable oil
Kosher salt and freshly cracked black pepper to taste
The vinaigrette
1/3 cup extra virgin olive oil
1/4 cup balsamic vinegar
1/4 cup golden raisins, finely chopped
2 tablespoons minced fresh sage
1 teaspoon dark brown sugar
Directions:
Build a multilevel fire in your grill (see Multilevel charcoal fire). When the coals are all ignited, the fire has died down, and the temperature is medium (see Gauging the temperature), you're ready to cook.
Rub the chicken breasts with vegetable oil, sprinkle generously with salt and pepper, and place them skin side down on the hottest part of the grill. Cook until the skin is very brown and crisp (about 4 minutes); flip them over and cook on the other side for about 4 minutes more. To finish, move the breasts to the cooler side of the grill, skin side down, and cover them with an inverted foil pan until they are completely opaque inside but not dried out (10-12 minutes more). To check for doneness, poke the meat with your finger to test its firmness (see The "hand method"); if you're unsure, cut into the thickest part of the largest breast and check to be sure it is opaque all the way through, with no redness near the bone.
While the chicken is cooking, make the vinaigrette: Combine the olive oil, vinegar, raisins, sage, and brown sugar in a bowl large enough to hold at least one of the chicken breasts, whisking until the sugar dissolves. Set aside.
As soon as you move the chicken to the cooler side of the grill, rub the apple halves with vegetable oil, sprinkle them generously with salt and pepper, and arrange them, cut side down, beside the chicken. Cook the apples until the cut sides are golden brown (about 5 minutes).
As the chicken breasts are done, dunk them one at a time in the bowl of vinaigrette, then transfer to a serving platter. Arrange the apples around the chicken, drizzle the remaining vinaigrette over all, and serve.
excerpted from: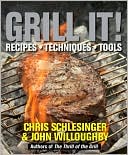 Sign-Up Now!
Sign up to save recipes or create shopping lists online.
Already registered? Login here

Cooking Tips
More Videos: