Home > Food > Recipes > Grilled Chicken Drumsticks with Oranges and Green Olives
Grilled Chicken Drumsticks with Oranges and Green Olives
For a bit of an exotic allure, serve drumsticks with a Moroccan-inspired mixture of oranges and olives enlivened with lemon juice, garlic, and hot peppers.
Ingredients:
2 large oranges
1/2 cup pitted green olives
Juice of 11/2 lemons (about 1/3 cup)
1/4 cup extra virgin olive oil
1 teaspoon minced fresh garlic
1 teaspoon red pepper flakes
Kosher salt and freshly cracked black pepper
8 chicken drumsticks
Directions:
Build a fire in your grill. When the coals are all ignited, the flames have died down, and the temperature is medium-low (see Gauging the temperature), you're ready to cook.
Use a vegetable peeler to remove the zest from both oranges. Mince the zest and set it aside. (You should have about 2 tablespoons of zest.) With a sharp knife, remove and discard all of the white pith from the oranges. Working over a medium-size bowl to catch the juice, cut between the section membranes of each orange to remove each section whole, taking care to remove any seeds. Add the sections to the juice together with the olives, lemon juice, olive oil, reserved zest, garlic, red pepper flakes, and salt and pepper to taste; mix well and set aside.
Sprinkle the drumsticks generously with salt and pepper, then place them on the grill directly over the coals and cook for 12-14 minutes, rolling them around to ensure even browning. To check for doneness, poke the meat with your finger to test its firmness (see The "hand method"); if you're unsure, cut into the thickest part of the largest drumstick to be sure it's opaque all the way through, with no redness near the bone.
Arrange the drumsticks on a platter and spoon the orange-olive mixture over and around them.
excerpted from: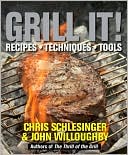 Sign-Up Now!
Sign up to save recipes or create shopping lists online.
Already registered? Login here

Cooking Tips
More Videos: