Home > Food > Recipes > Grilled Chicken with Tarragon Mayonnaise
Grilled Chicken with Tarragon Mayonnaise
Tarragon mayonnaise tastes divine over grilled chicken.
Prep Time: 20M
Cooking Time: 30M
Serves: Serves 4
Ingredients:
4 large chicken breasts, skin on
4 tbsp olive oil
grated zest and juice of 1 lemon
sea salt and ground black pepper
For the tarragon mayonnaise
large handful of fresh tarragon, leaves picked and chopped
1 garlic clove, sliced
1 egg yolk
6fl oz (185ml) light olive oil
juice of 1/2 lemon
Directions:
Put the chicken breasts, olive oil, and lemon zest and juice in a bowl. Season with sea salt and black pepper, and rub the marinade into the meat. Allow to marinate in the refrigerator for about 1 hour.
To make the mayonnaise, using a mortar and pestle, pound the tarragon, garlic, and a good pinch of sea salt into a paste. Transfer to a larger bowl, add the egg yolk, and stir thoroughly with a wooden spoon or wire whisk until smooth. Keep whisking, and add the oil, a drop at a time, making sure that it is absorbed completely. Once the mixture starts to thicken, add the oil in a slow, thin drizzle. When a third of the oil has been used, start adding the lemon juice, a little at a time. Continue adding remaining oil, whisking, until well incorporated. Season with black pepper, and set aside.
Preheat the oven to 400°F (200°C). Heat the grill of a barbecue or charcoal grill until hot. Grill the chicken over medium heat for about 10 minutes, until charred on both sides. Transfer to a baking pan, and roast in the oven for 15-20 minutes, or until cooked through. Set aside to cool.
Discard the skin from the cooled chicken, and use your fingers to shred the meat lengthwise. Put in a bowl, add the tarragon mayonnaise, and mix well. Transfer to a serving dish, and serve with torn romaine lettuce drizzled with a little lemon juice and extra virgin olive oil.
Tips:
Any leftover chicken can be used in sandwiches with sliced avocado and mixed salad leaves.
excerpted from: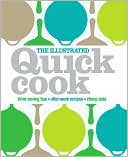 Excerpted from The Illustrated Quick Cook.
Copyright © 2009 Dorling Kindersley Limited.
Buy this book now!
Sign-Up Now!
Sign up to save recipes or create shopping lists online.
Already registered? Login here

Cooking Tips
More Videos: