Home > Food > Recipes > Grilled Monkfish with Crabmeat, Crispy Prosciutto, and Artichoke Hearts
Grilled Monkfish with Crabmeat, Crispy Prosciutto, and Artichoke Hearts
Mild-flavored grilled monkfish provides the perfect foil for a trio of Italian ingredients-- mellow crabmeat, crisp, salty ham, and delicately nutty artichoke hearts.
Ingredients:
4 monkfish fillets, about 8oz (225g) each
2 tablespoons vegetable oil
Kosher salt and freshly cracked black pepper
12 thin slices prosciutto
4 jarred or cooked fresh artichoke hearts, quartered
8oz (225g) fresh lump crabmeat, carefully picked over
Juice of 1 lemon (about 1/4 cup)
1/4 cup roughly chopped fresh parsley
3 tablespoons extra virgin olive oil
Directions:
Build a fire in your grill. When the coals are all ignited, the flames have died down, and the temperature is medium-hot (see Gauging the temperature), you're ready to cook.
Rub the monkfish with the vegetable oil and sprinkle it generously with salt and pepper. Put it on the grill directly over the coals and cook until just opaque throughout (6-8 minutes per side). To check for doneness, poke the fish with your finger to test its firmness (see The "hand method"); if you're unsure, make a cut in one of the fillets to be sure it is just opaque all the way through.
Meanwhile, put the prosciutto on the grill around the edge of the fire and cook until it starts to brown and crisp at the edges (about 1 minute per side).
Put the artichoke hearts and crabmeat in a medium bowl and sprinkle with the lemon juice, parsley, and extra virgin olive oil. Add salt and pepper to taste, and toss gently to blend.
Arrange the fish fillets on a serving platter, spoon the crab mixture on top, break up the prosciutto over the crab, and serve immediately.
excerpted from: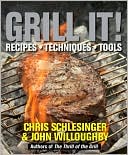 Sign-Up Now!
Sign up to save recipes or create shopping lists online.
Already registered? Login here

Cooking Tips
More Videos: