Home > Food > Recipes > Grilled Orange Chicken Breast with Chunky Ginger-Plum Sauce
Grilled Orange Chicken Breast with Chunky Ginger-Plum Sauce
This chunky plum sauce creates an elegant sauce, and can be substituted with apricots, peaches, or even mangoes.
Ingredients:
4 boneless skin-on chicken breasts, 10-12oz (300-350g) each
3 tablespoons olive oil
Kosher salt and freshly cracked black pepper
1/4 cup finely minced orange zest
The sauce
2 tablespoons olive oil
1 medium red onion, peeled and diced small
3 ripe plums, pitted and quartered
1 tablespoon peeled and minced fresh ginger
Juice of 1 lemon (about 1/4 cup)
1/3 cup roughly chopped fresh parsley
Kosher salt and freshly cracked black pepper to taste
Directions:
Build a fire in your grill. When the coals are all ignited, the flames have died down, and the temperature is medium (see Gauging the temperature), you're ready to cook.
Rub the chicken breasts with the oil and sprinkle them generously with salt and pepper and the orange zest, pressing gently so it adheres. Put the chicken on the grill directly over the coals, skin side down, and cook, turning once, until they are opaque all the way through (7-9 minutes per side). To check for doneness, poke the chicken with your finger to test its firmness (see The "hand method"); if you're unsure, make a small cut in the thickest part of one piece to be sure there is no pinkness in the center.
While the chicken is cooking, make the sauce: On the stove top, heat the oil in a large sauté pan over medium-high heat until hot but not smoking. Add the onions and sauté, stirring occasionally, until golden brown (11-13 minutes). Add the plums and ginger and cook, stirring frequently, for another 3 minutes, or until the plums are tender but not mushy. Remove from the heat, stir in the lemon juice and parsley, and add salt and pepper to taste.
Serve the chicken hot, with a spoonful of plum sauce on each piece. Pass the remaining sauce on the side.
excerpted from: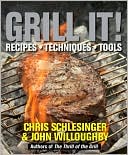 Sign-Up Now!
Sign up to save recipes or create shopping lists online.
Already registered? Login here

Cooking Tips
More Videos: