Home > Food > Recipes > Grilled Striped Bass with Mediterranean Salad
Grilled Striped Bass with Mediterranean Salad
This simple summer dish is perfect grilled very plainly and nicely complemented by tomato-cucumber salad.
Ingredients:
4 striped bass fillets, 8oz (225g) each
2 tablespoons vegetable oil
Kosher salt and freshly cracked black pepper
The salad
2 tomatoes about the size of baseballs, cored and diced large
1 cucumber, peeled if desired, diced medium
1/2 red onion, peeled and diced small
1/3 cup pitted black olives
The dressing
Juice of 11/2 lemons (about 1/3 cup)
1/4 cup minced fresh basil
Pinch of red pepper flakes
Kosher salt and freshly cracked black pepper to taste
1/3 cup extra virgin olive oil
Directions:
Build a multilevel fire in your grill. When the coals are all ignited, the flames have died down, and the temperature is medium (see Gauging the temperature), you're ready to cook.
Rub the bass fillets with the vegetable oil and sprinkle them generously with salt and pepper. Place the fillets on the hotter side of the grill and cook until they develop a crusty, dark sear on the outside and are opaque on the inside (6-8 minutes per side). If the flesh starts to become too dark, move the fillets to the cooler side of the grill and cover them with a pie plate or disposable foil pan to finish cooking. To check for doneness, poke the fish with your finger to test its firmness (see The "hand method"); if you're unsure, make a cut in one of the fillets to be sure it is just opaque all the way through.
While the fish is cooking, put the salad ingredients in a medium-sized bowl. Combine all the dressing ingredients except the olive oil in a small bowl, then add the oil, whisking, and whisk until well blended. Add just enough of this dressing to moisten the salad mixture and toss until well blended and evenly coated with dressing.
To serve, divide the salad among four dinner plates and arrange a grilled fillet over each.
excerpted from: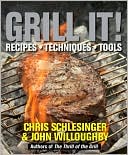 Sign-Up Now!
Sign up to save recipes or create shopping lists online.
Already registered? Login here

Cooking Tips
More Videos: