Home > Food > Recipes > Grilled Super-Fiery West indian Chicken Breasts with Sour Orange Mojo
Grilled Super-Fiery West indian Chicken Breasts with Sour Orange Mojo
This flavorful spice paste forms a super-hot and spicy crust on the outside of tender chicken breasts, and is an ideal dish if you like chicken, but are tired of the usual ways of preparing it.
Ingredients:
4 boneless, skinless full chicken breasts, 10-12oz (300-350g) each
1/3 cup yellow mustard
4 Scotch bonnet chile peppers, stemmed
1 tablespoon peeled and minced fresh ginger
1 tablespoon good-quality curry powder
1/4 cup roughly chopped scallions, white and green parts
Kosher salt and freshly cracked black pepper to taste
The mojo
Juice of 2 oranges (about 1 cup)
1/3 cup distilled white vinegar
1/3 cup olive oil
2 tablespoons roughly chopped fresh oregano
1 tablespoon minced fresh garlic
1 tablespoon minced fresh chili pepper of your choice
Kosher salt and freshly cracked black pepper to taste
Directions:
Place the chicken breasts in a large, shallow bowl. Combine the mustard, chiles, ginger, curry powder, scallions, and salt and pepper in a blender or food processor and purée; pour over the chicken, turning each piece to coat. Cover and refrigerate for 1 hour, turning once or twice if you remember.
While the chicken marinates, build a fire in your grill. When the coals are all ignited, the flames have died down, and the temperature is medium (see Gauging the temperature), you're ready to cook.
Combine all the mojo ingredients in a medium bowl, mix well, and set aside.
Place the chicken breasts on the grill directly over the coals and cook, turning once, until they are opaque all the way through (7-9 minutes per side). To check for doneness, poke the chicken with your finger to test its firmness (see The "hand method"); if you're unsure, make a small cut in the thickest part of the largest breast to be sure that it is opaque all the way through.
To serve, arrange the chicken breasts on a serving platter and spoon the mojo over them.
excerpted from: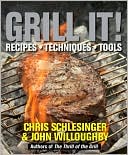 Sign-Up Now!
Sign up to save recipes or create shopping lists online.
Already registered? Login here

Cooking Tips
More Videos: