Home > Food > Recipes > Grilled Swordfish with Dried Tomato-Homemade Raisin Relish
Grilled Swordfish with Dried Tomato-Homemade Raisin Relish
Raisins and dried tomatoes go together perfectly in this relish, and are a beautiful complement to grilled swordfish.
Ingredients:
4 swordfish steaks, about 1in (2.5cm) thick, 8oz (225g) each
2 tablespoons olive oil
2 tablespoons coriander seeds, freshly cracked
Kosher salt and freshly cracked black pepper
The relish
6 plum tomatoes, cored and cut in half
2 tablespoons olive oil
1 cup whole green grapes
1/4 cup extra virgin olive oil
2 tablespoons roughly chopped fresh oregano
1 tablespoon dry sherry
1 teaspoon minced fresh garlic
Pinch red pepper flakes
Kosher salt and freshly cracked black pepper to taste
Directions:
Dry the fruits for the relish: Preheat the oven to 200°F (110°C). Rub the tomato halves with the 2 tablespoons of regular olive oil and place them cut side up on a wire rack set over a baking sheet. Put the grapes on the rack beside the tomatoes, and place the baking sheet on the middle shelf of the oven. Remove the grapes when they resemble plump raisins (4-6 hours). Return the tomatoes to the oven and leave them until they are reduced in size by about one-quarter and shriveled on the outside but still tender and juicy inside (2-4 hours more). Cut each dried tomato half in half again.
Combine the dried grapes and tomatoes in a medium bowl along with the extra virgin olive oil, oregano, sherry, garlic, red pepper flakes, and salt and pepper and mix well.
Build a fire in your grill. When the coals are all ignited, the flames have died down, and the temperature is hot (see Gauging the temperature), you're ready to cook.
Rub the swordfish steaks with oil and sprinkle them generously with coriander, salt, and pepper, pressing gently to be sure the seasonings adhere. Put the fish on the grill directly over the coals and cook until it is just opaque throughout (5-7 minutes per side). To check for doneness, poke the fish with your finger to test its firmness (see The "hand method"); if you're unsure, cut into a steak at its thickest point to be sure it is just opaque all the way through.
Arrange the swordfish steaks on a serving platter, top each with a spoonful of relish, and pass the remaining relish on the side.
excerpted from: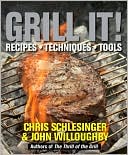 Sign-Up Now!
Sign up to save recipes or create shopping lists online.
Already registered? Login here

Cooking Tips
More Videos: