Home > Food > Recipes > Lamb and Peach Skewers with Cucumber-Feta Relish
Lamb and Peach Skewers with Cucumber-Feta Relish
Aromatic peaches and meaty, slightly sweet lamb gives this dish a slightly Persian taste.
Ingredients:
2lb (900g) boneless leg of lamb, cut into 1in (2.5cm) cubes
2 ripe but firm peaches, pitted and cut into eighths
2 red bell peppers, cored, seeded, and halved, each half quartered
1 red onion, peeled and halved, each half quartered
1/4 cup olive oil
1 tablespoon minced garlic
1 tablespoon dried oregano
Kosher salt and freshly cracked black pepper to taste
The relish
1 cucumber, peeled and diced small
8oz (225g) feta cheese, diced medium
1/4 cup roughly chopped fresh mint
1/4 cup extra virgin olive oil
2 tablespoons red wine vinegar
Kosher salt and freshly cracked black pepper to taste
Directions:
Build a fire in your grill. When the coals are all ignited, the flames have died down, and the temperature is medium-hot (see Gauging the temperature), you're ready to cook.
Combine the lamb, peaches, red peppers, onion, oil, garlic, oregano, and salt and pepper in a large bowl and toss gently. Thread the lamb, peach, red pepper, and onion alternately onto skewers, place on the grill directly over the coals, and cook until the vegetables are tender and the meat is just done (4-5 minutes per side for rare). To check for doneness, poke the lamb with your finger to test its firmness (see The "hand method"); if you're unsure, cut into one of the cubes and check that it is slightly less done than you like it, to account for carryover cooking.
While the skewers cook, combine the relish ingredients in a medium-sized bowl and toss gently to combine.
When the skewers are ready, transfer them to a platter and serve, passing the relish on the side.
excerpted from: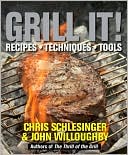 Sign-Up Now!
Sign up to save recipes or create shopping lists online.
Already registered? Login here

Cooking Tips
More Videos: